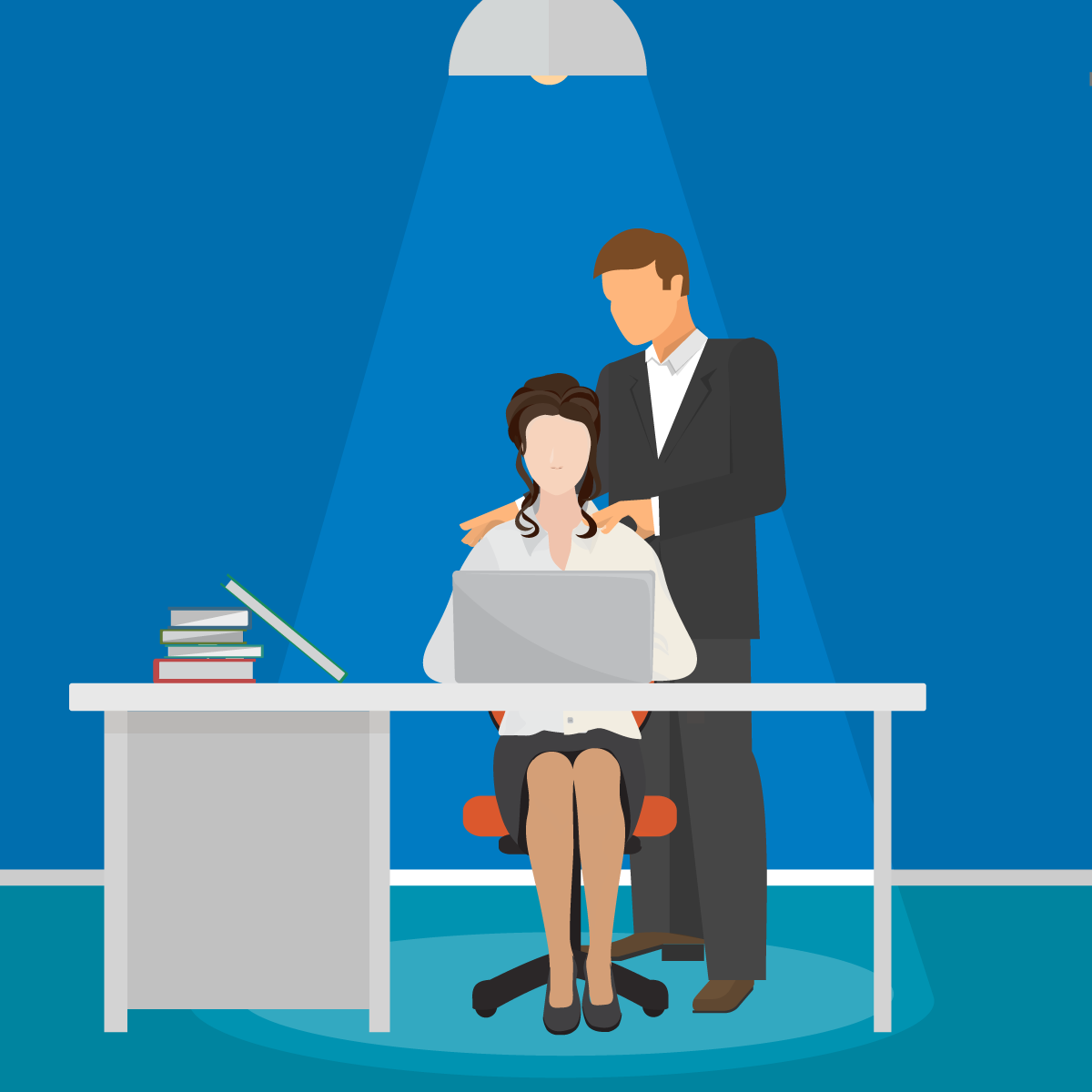 In California, unlawful workplace sexual harassment occurs when a person directs negative, inappropriate, or unwanted conduct at a worker based on their sex, gender, marital status, sexual orientation, pregnancy, or other sex-related reason.⁠1
Sexual harassment can take a variety of forms, and with more media platforms available to employees, sexual harassment has never been more prevalent in the workplace. Coworkers and supervisors alike are connected through Facebook, Twitter, and other social networks. They also commonly communicate through e-mails and text messages. Common violations include:
Inappropriate sexual jokes, derogatory comments, or innuendo;

Physical harassment, like unwanted touching;

Verbal threats or implied threats of a sexual nature;

Visual harassment, like posters or signs;

Aggressive or repeated requests for sexual favors;⁠

2

and

Showing favoritism based on sex.⁠

3
Importantly, harassment of this kind does not need to be motivated by sexual desire to be unlawful (although it often is).⁠4 It can also be motivated by meanness, bigotry, or personal gratification.⁠5
So when does a dirty joke or sexually explicit message become sexual harassment? How far can employees go before they commit unlawful acts? This article provides an answer to these questions and more for California employees.
References
Gov. Code, § 12940, subd. (j)(1), (j)(4)(C) ["For purposes of this subdivision, 'harassment' because of sex includes sexual harassment, gender harassment, and harassment based on pregnancy, childbirth, or related medical conditions."].↥
Cal. Code Regs., tit. 2, § 11019, subd. (b).↥
Miller v. Department of Corrections (2005), 30 Cal.Rptr.3d 797, 813.↥
Gov. Code, § 12940, subd. (j)(4)(C) ["Sexually harassing conduct need not be motivated by sexual desire."]; Miller v. Department of Corrections (2005) 36 Cal.4th 446, 469 ["it is clear under California law that a plaintiff may establish a hostile work environment without demonstrating the existence of coercive sexual conduct directed at the plaintiff or even conduct of a sexual nature."]; EEOC v. Nat'l Educ. Ass'n (9th Cir. 2005) 422 F.3d 840, 844 ["The Supreme Court has held that 'harassing conduct need not be motivated by sexual desire to support an inference of discrimination on the basis of sex.'"].↥
Janken v. GM Hughes Electronics (1996) 46 Cal.App.4th 55, 63.↥
Dept. of Fair Employment & Housing, 2018 Annual Report (2018) available here (Opens in new window).↥
42 USCS § 2000e-2(a)(1).↥
Meritor Sav. Bank, FSB v. Vinson (1986) 477 U.S. 57, 64 [106 S.Ct. 2399, 2404] ["Without question, when a supervisor sexually harasses a subordinate because of the subordinate's sex, that supervisor "discriminate[s]" on the basis of sex."].↥
Gov. Code, § 12900 et seq.↥
Gov. Code, § 12940, subd. (j)(1).↥
Cal. Const., art. I, § 8 ["A person may not be disqualified from entering or pursuing a business, profession, vocation, or employment because of sex, race, creed, color, or national or ethnic origin."].↥
See State Dept. of Health Services v. Superior Court (2003) 31 Cal.4th 1026, 1040 [noting that, unlike FEHA, "Title VII lacks specific language on sexual harassment"].↥
42 U.S.C. § 1981a(a)–(d).↥
Gov. Code, § 12965, subd. (c) ["A court may grant as relief in any action filed pursuant to subdivision (a) any relief a court is empowered to grant in a civil action brought pursuant to subdivision (b), in addition to any other relief that, in the judgment of the court, will effectuate the purpose of this part."].↥
Gov. Code, § 12940, subd. (j)(4)(A) ["For purposes of this subdivision only, 'employer' means any person regularly employing one or more persons or regularly receiving the services of one or more persons providing services pursuant to a contract, or any person acting as an agent of an employer, directly or indirectly, the state, or any political or civil subdivision of the state, and cities."].↥
42 U.S.C. § 2000e(b).↥
Bohemian Club v. Fair Employment & Hous. Comm. (1986) 187 Cal.App.3d 1, 17 [finding that FEHA is not preempted by Title VII].↥
Gov. Code, § 12940, subd. (j)(4)(A) ["For purposes of this subdivision only, 'employer' means any person regularly employing one or more persons or regularly receiving the services of one or more persons providing services pursuant to a contract, or any person acting as an agent of an employer, directly or indirectly, the state, or any political or civil subdivision of the state, and cities."].↥
Gov. Code, § 12940, subd. (j)(3) ["An employee of an entity subject to this subdivision is personally liable for any harassment prohibited by this section that is perpetrated by the employee, regardless of whether the employer or covered entity knows or should have known of the conduct and fails to take immediate and appropriate corrective action."].↥
Gov. Code, § 12940, subd. (j)(1) ["For an employer, labor organization, employment agency, apprenticeship training program or any training program leading to employment, or any other person, because of race, religious creed, color, national origin, ancestry, physical disability, mental disability, medical condition, genetic information, marital status, sex, gender, gender identity, gender expression, age, sexual orientation, or military and veteran status, to harass an employee, an applicant, an unpaid intern or volunteer, or a person providing services pursuant to a contract."].↥
Gov. Code, § 12940, subd. (j)(1), (j)(4)(C) ["For purposes of this subdivision, 'harassment' because of sex includes sexual harassment, gender harassment, and harassment based on pregnancy, childbirth, or related medical conditions."].↥
See, e.g., Janken v. GM Hughes Electronics (1996) 46 Cal.App.4th 55, 63 [Harassment consists of improper conduct that is engaged in for personal gratification, because of meanness or bigotry, or for other personal motives, and is outside the scope of the harasser's job].; Reno v. Baird (1998) 18 Cal.4th 640, 646.↥
Meritor Sav. Bank, FSB v. Vinson (1986) 477 U.S. 57, 65 [106 S.Ct. 2399, 2404]; see also Cal. Code Regs., tit. 2, § 11034, subd. (f).↥
Cal. Code Regs., tit. 2, § 11019, subd. (b)(2) [including both categories under the definition of "harassment"]; see also Roby v. McKesson Corp. (2009) 47 Cal.4th 686, 706, fn. 8 [noting that quid pro quo sexual harassment was simply a subcategory of sexual harassment generally].↥
Cal. Code Regs., tit. 2, § 11034, subd. (f)(1) ["'Quid pro quo' (Latin for 'this for that') sexual harassment is characterized by explicit or implicit conditioning of a job or promotion on an applicant or employee's submission to sexual advances or other conduct based on sex."].↥
Hughes v. Pair (2009) 46 Cal.4th 1035, 1042 [quid pro quo sexual harassment is "a demand for sexual favors in return for a job benefit"].↥
Cal. Code Regs., tit. 2, § 11019, subd. (b)(2)(D) ["Harassment includes but is not limited to: . . . Sexual favors, e.g., unwanted sexual advances, which condition an employment benefit upon an exchange of sexual favors."].↥
Burlington Indus. v. Ellerth (1998) 524 U.S. 742, 751 [118 S.Ct. 2257, 2264] ["Cases based on threats which are carried out are referred to often as quid pro quo cases, as distinct from bothersome attentions or sexual remarks that are sufficiently severe or pervasive to create a hostile work environment."].↥
Cal. Code Regs., tit. 2, § 11019, subd. (b); Mogilefsky v. Superior Court (1993) 20 Cal.App.4th 1409, 1414 ["A cause of action for quid pro quo harassment involves the behavior most commonly regarded as sexual harassment, including, e.g., sexual propositions, unwarranted graphic discussion of sexual acts, and commentary on the employee's body and the sexual uses to which it could be put."].↥
Mogilefsky v. Superior Court (1993) 20 Cal.App.4th 1409, 1414 ["To state a cause of action on this theory, is it sufficient to allege that a term of employment was expressly or impliedly conditioned upon acceptance of a supervisor's unwelcome sexual advances."].↥
Mogilefsky v. Superior Court (1993) 20 Cal.App.4th 1409, 1415.↥
Hughes v. Pair (2009) 46 Cal.4th 1035, 1049 ["To establish quid pro quo sexual harassment under these employment laws, a plaintiff must show 'that a tangible employment action resulted from a refusal to submit to a supervisor's sexual demands.'"].↥
Accardi v. Superior Court (1993) 17 Cal.App.4th 341, 348⁠–⁠349.↥
Gov. Code, § 12940, subd. (j)(4)(C) ["Sexually harassing conduct need not be motivated by sexual desire."].↥
Lyle v. Warner Brothers Television Productions (2006) 38 Cal.4th 264, 279 ["a hostile work environment sexual harassment claim requires a plaintiff employee to show she was subjected to sexual advances, conduct, or comments that were . . . sufficiently severe or pervasive to alter the conditions of her employment and create an abusive work environment"].↥
Lyle v. Warner Brothers Television Productions (2006) 38 Cal.4th 264, 283 ["Although annoying or 'merely offensive' comments in the workplace are not actionable, conduct that is severe or pervasive enough to create an objectively hostile or abusive work environment is unlawful, even if it does not cause psychological injury to the plaintiff."].↥
Beyda v. City of Los Angeles (1998) 65 Cal.App.4th 511, 516⁠–⁠517.↥
Fisher v. San Pedro Peninsula Hospital (1989), 214 Cal. App.3d 590, 608.↥
Meritor Sav. Bank, FSB v. Vinson (1986) 477 U.S. 57, 68 [106 S.Ct. 2399, 2406] ["The gravamen of any sexual harassment claim is that the alleged sexual advances were 'unwelcome.'"].↥
Fisher v. San Pedro Peninsula Hospital (1989) 214 Cal. App.3d 590, 608.↥
Miller v. Department of Corrections (2005) 36 Cal.4th 446, 462 [noting that courts consider the frequency and severity of the harassment, among other factors].↥
Hughes v. Pair (2009) 46 Cal.4th 1035, 1049 ["employment law acknowledges that an isolated incident of harassing conduct may qualify as 'severe' when it consists of 'a physical assault or the threat thereof.'"].↥
Lewis v. City of Benicia (2014) 224 Cal.App.4th 1519, 1529.↥
Fisher v. San Pedro Peninsula Hospital (1989) 214 Cal. App.3d 590, 610 ["The factors that can be considered in evaluating the totality of the circumstances are: (1) the nature of the unwelcome sexual acts or works (generally, physical touching is more offensive than unwelcome verbal abuse); (2) the frequency of the offensive encounters; (3) the total number of days over which all of the offensive conduct occurs; and (4) the context in which the sexually harassing conduct occurred."].↥
Gov. Code, § 12940, subd. (j).↥
Lewis v. City of Benicia (2014) 224 Cal.App.4th 1519, 1525 ["Under both Title VII and FEHA, sexual harassment can occur between members of the same gender as long as the plaintiff can establish the harassment amounted to discrimination because of sex."].↥
Lewis v. City of Benicia (2014) 224 Cal.App.4th 1519, 1525⁠–⁠1526.↥
Fisher v. San Pedro Peninsula Hospital (1989) 214 Cal.App.3d 590, 610 ["generally, physical touching is more offensive than unwelcome verbal abuse"]; Herberg v. California Institute of the Arts (2002) 101 Cal.App.4th 142, 150 ["physical touching generally considered more offensive than mere words"].↥
Fuller v. City of Oakland (9th Cir. 1995) 47 F.3d 1522, 1527.↥
Rene v. MGM Grand Hotel, Inc. (9th Cir. 2002) 305 F.3d 1061, 1065⁠–⁠1066; Kelly-Zurian v. Wohl Shoe Co. (1994) 22 Cal.App.4th 397, 409 [touching of the breast, crotch, and pinching of the buttocks was sexual harassment].↥
Rene v. MGM Grand Hotel, Inc. (9th Cir. 2002) 305 F.3d 1061, 1064.↥
Rene v. MGM Grand Hotel, Inc. (9th Cir. 2002) 305 F.3d 1061, 1065.↥
Mokler v. County of Orange (2007) 157 Cal.App.4th 121, 132.↥
Mokler v. County of Orange (2007) 157 Cal.App.4th 121, 145.↥
Mokler v. County of Orange (2007) 157 Cal.App.4th 121, 145⁠–⁠146.↥
Candelore v. Clark Cnty. Sanitation Dist. (9th Cir. 1992) 975 F.2d 588, 590.↥
Lyle v. Warner Brothers Television Productions (2006) 38 Cal.4th 264, 280 ["verbal harassment may include epithets, derogatory comments, or slurs on the basis of sex"].↥
Lyle v. Warner Brothers Television Prods. (2006) 38 Cal.4th 264, 281.↥
Miller v. Department of Corrections (2005) 36 Cal.4th 446, 465⁠–⁠466.↥
Accardi v. Superior Court (1993) 17 Cal.App.4th 341, 349, citing with approval Hall v. Gus Construction Company, Inc. (8th Cir. 1988) 842 F.2d 1010.↥
Lyle v. Warner Brothers Television Productions (2006) 38 Cal.4th 264, 282 ["a hostile work environment sexual harassment claim is not established where a supervisor or coworker simply uses crude or inappropriate language in front of employees or draws a vulgar picture, without directing sexual innuendos or gender-related language toward a plaintiff or toward women in general."].↥
Lyle v. Warner Brothers Television Productions (2006) 38 Cal.4th 264, 283.↥
Lyle v. Warner Brothers Television Productions (2006) 38 Cal.4th 264, 281-282; Steiner v. Showboat Operating Co. (9th Cir. 1994) 25 F.3d 1459, 1464..↥
Nichols v. Azteca Rest. Enters. (9th Cir. 2001) 256 F.3d 864, 872⁠–⁠873.↥
Nichols v. Azteca Rest. Enters. (9th Cir. 2001) 256 F.3d 864, 878.↥
Herberg v. California Institute of the Arts (2002) 101 Cal.App.4th 142, 153 [isolated incidents insufficient].↥
Birschtein v. New United Motor Manufacturing, Inc. (2001) 92 Cal.App.4th 994, 997.↥
Birschtein v. New United Motor Manufacturing, Inc. (2001) 92 Cal.App.4th 994, 998 .↥
Birschtein v. New United Motor Manufacturing, Inc. (2001) 92 Cal.App.4th 994, 998.↥
Birschtein v. New United Motor Manufacturing, Inc. (2001) 92 Cal.App.4th 994, 1002↥
Hughes v. Pair (2009) 46 Cal.4th 1035, 1042.↥
Miller v. Department of Corrections (2005) 36 Cal.4th 446, 461 [the prohibition against sexual harassment includes "impliedly conditioning employment benefits on submission to or tolerance of unwelcome sexual advances"].↥
Gov. Code, § 12940, subd. (a).↥
Miller v. Department of Corrections (2005) 36 Cal.4th 446, 451.↥
Miller v. Department of Corrections (2005) 36 Cal.4th 446, 451.↥
Miller v. Department of Corrections (2005) 36 Cal.4th 446, 466.↥
Miller v. Department of Corrections (2005) 36 Cal.4th 446, 466.↥
Miller v. Department of Corrections (2005) 36 Cal.4th 446, 468.↥
Billings v. Town of Grafton (1st Cir. 2008) 515 F.3d 39.↥
Billings v. Town of Grafton (1st Cir. 2008) 515 F.3d 39, 50.↥
Lyle v. Warner Brothers Television Productions (2006) 38 Cal.4th 264, 283 ["courts have held an employee generally cannot recover for harassment that is occasional, isolated, sporadic, or trivial"].↥
Candelore v. Clark County Sanitation Dist. (9th Cir. 1992) 975 F.2d 588, 590.↥
Lyle v. Warner Brothers Television Productions (2006) 38 Cal.4th 264, 283.↥
Brooks v. City of San Mateo (9th Cir. 2000) 229 F.3d 917, 926 ["If a single incident can ever suffice to support a hostile work environment claim, the incident must be extremely severe."].↥
Brooks v. City of San Mateo (9th Cir. 2000) 229 F.3d 917, 921.↥
Brooks v. City of San Mateo (9th Cir. 2000) 229 F.3d 917, 924.↥
Brooks v. City of San Mateo (9th Cir. 2000) 229 F.3d 917, 927.↥
See, e.g., Lyle v. Warner Brothers Television Productions (2006) 38 Cal.4th 264, 283.↥
Hughes v. Pair (2009) 46 Cal.4th 1035, 1042.↥
Gov. Code, § 12940, subd. (j)(1) ["Harassment of an employee, an applicant, an unpaid intern or volunteer, or a person providing services pursuant to a contract by an employee, other than an agent or supervisor, shall be unlawful if the entity, or its agents or supervisors, knows or should have known of this conduct and fails to take immediate and appropriate corrective action."].↥
Cal. Code Regs., tit. 2, § 11023, subd. (a) ["Employers have an affirmative duty to take reasonable steps to prevent and promptly correct discriminatory and harassing conduct."]; Gov. Code, § 12950.1, subd. (a).↥
Gov. Code, § 12940, subd. (j)(1) ["Harassment of an employee, an applicant, an unpaid intern or volunteer, or a person providing services pursuant to a contract by an employee, other than an agent or supervisor, shall be unlawful if the entity, or its agents or supervisors, knows or should have known of this conduct and fails to take immediate and appropriate corrective action."].↥
Cal. Code Regs., tit. 2, § 11019, subd. (b)(4); Myers v. Trendwest Resorts, Inc. (2007) 148 Cal.App.4th 1403, 1419⁠–⁠1420 ["The employer is liable for harassment by a nonsupervisory employee only if the employer (a) knew or should have known of the harassing conduct and (b) failed to take immediate and appropriate corrective action."].↥
Gov. Code, § 12950.1, subd. (a).↥
Gov. Code, § 12950.1.↥
Gov. Code, § 12950.1, subd. (d).↥
Cal. Code Regs., tit. 2, § 11023, subd. (b).↥
Cal. Code Regs., tit. 2, § 11023, subd. (b).↥
Gov. Code, § 12950.↥
Gov. Code, § 12950, subd. (a).↥
Gov. Code, § 12965, subd. (c); Commodore Home Systems, Inc. v. Superior Court (1982) 32 Cal.3d 211, 215 ["the FEHA does not limit the relief a court may grant in a statutory suit charging employment discrimination"].↥
Janken v. GM Hughes Electronics (1996) 46 Cal.App.4th 55, 62⁠–⁠63 ["it was the intent of the Legislature to place individual supervisory employees at risk of personal liability for personal conduct constituting harassment"].↥
State Dept. of Health Services v. Superior Court (2003) 31 Cal.4th 1026, 1041 ["the FEHA makes the employer strictly liable for harassment by a supervisor."].↥
Gov. Code, § 12940, subd. (j)(1); Hope v. California Youth Authority (2005) 134 Cal.App.4th 577, 588.↥
Gov. Code, § 12940, subd. (j)(1) ["An employer may also be responsible for the acts of nonemployees, with respect to sexual harassment of employees, applicants, unpaid interns or volunteers, or persons providing services pursuant to a contract in the workplace, where the employer, or its agents or supervisors, knows or should have known of the conduct and fails to take immediate and appropriate corrective action. In reviewing cases involving the acts of nonemployees, the extent of the employer's control and any other legal responsibility that the employer may have with respect to the conduct of those nonemployees shall be considered."].↥
Civ. Code, § 3333 ["For the breach of an obligation not arising from contract, the measure of damages, except where otherwise expressly provided by this code, is the amount which will compensate for all the detriment proximately caused thereby, whether it could have been anticipated or not."].↥
Civ. Code, § 3333.↥
Gov. Code, § 12965, subd. (b) ["In civil actions brought under this section, the court, in its discretion, may award to the prevailing party, including the department, reasonable attorney's fees and costs, including expert witness fees."].↥
Gov. Code, § 12965, subd. (b).↥
Pollard v. E. I. du Pont de Nemours & Co. (2001) 532 U.S. 843, 846 [121 S.Ct. 1946, 1948, 150 L.Ed.2d 62, 67] ["In cases in which reinstatement is not viable because of continuing hostility between the plaintiff and the employer or its workers, or because of psychological injuries suffered by the plaintiff as a result of the discrimination, courts have ordered front pay as a substitute for reinstatement."].↥
Civ. Code, § 3287, subd. (a).↥
42 U.S.C. § 1981a(b)(3).↥
Civ. Code, § 3294, subd. (a) ["In an action for the breach of an obligation not arising from contract, where it is proven by clear and convincing evidence that the defendant has been guilty of oppression, fraud, or malice, the plaintiff, in addition to the actual damages, may recover damages for the sake of example and by way of punishing the defendant."].↥
Gov. Code, § 12965, subd. (b) ["In civil actions brought under this section, the court, in its discretion, may award to the prevailing party, including the department, reasonable attorney's fees and costs, including expert witness fees."].↥
Gov. Code, § 12960, subd. (b).↥
Martin v. Lockheed Missiles & Space Co. (1994) 29 Cal.App.4th 1718, 1724; Williams v. City of Belvedere (1999) 72 Cal.App.4th 84, 90 ["Before a person may file a civil complaint alleging a violation of this statute, he or she must first file an administrative claim with the DFEH."].↥
Gov. Code, § 12965, subd. (b) ["If a civil action is not brought by the department within 150 days after the filing of a complaint, or if the department earlier determines that no civil action will be brought, the department shall promptly notify, in writing, the person claiming to be aggrieved that the department shall issue, on his or her request, the right-to-sue notice."].↥
Gov. Code, § 12960; Romano v. Rockwell Internat., Inc. (1996) 14 Cal.4th 479, 492 ["As for the applicable limitation period, the FEHA provides that no complaint for any violation of its provisions may be filed with the Department 'after the expiration of one year from the date upon which the alleged unlawful practice or refusal to cooperate occurred . . . .'"].↥
Gov. Code, § 12965, subd. (d)(2).↥
Gov. Code, § 12940, subd. (h).↥
Gov. Code, § 12940, subd. (h).↥