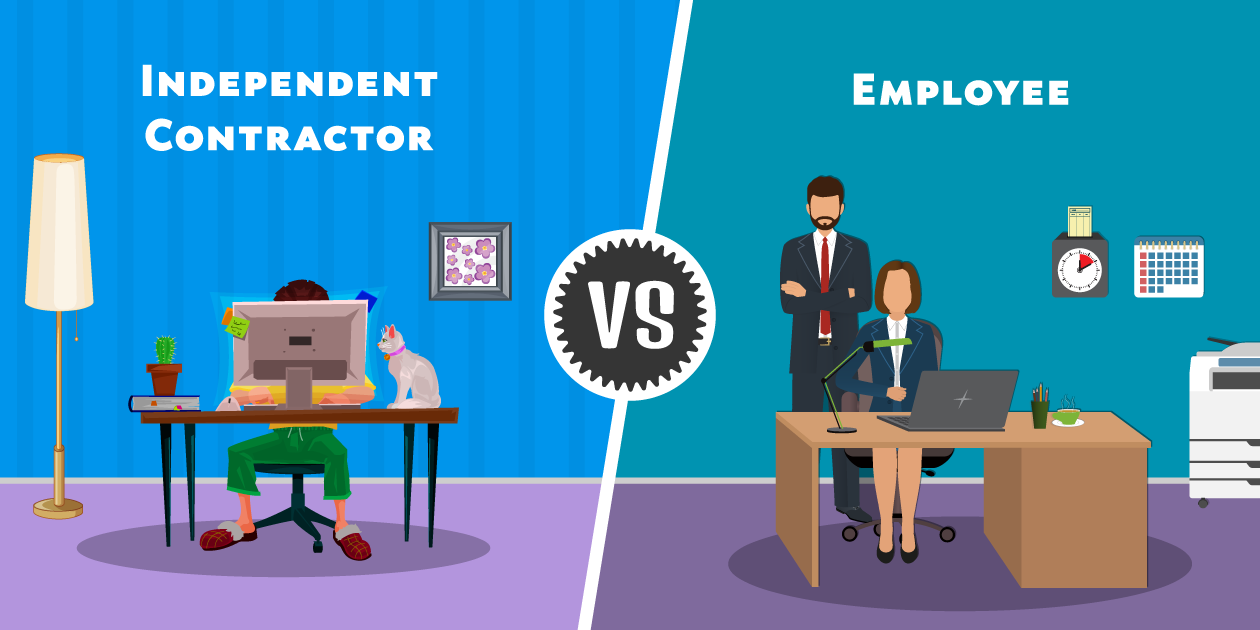 Independent contractors are workers in business for themselves. They're generally free to work on multiple projects at the same time and take jobs on a freelance basis. In many cases, they can choose when, where, and how they perform the work.⁠1
Employees are workers employed by a business, person, or government entity.⁠2 In an employee-employer relationship, the employer generally exercises a control over the wages, hours, and working conditions of the employee.⁠3
The distinction between independent contractors and employees is an important one. Employees have many legal rights that independent contractors do not. Those can include the right to overtime pay,⁠4 the right to meal breaks,⁠5 and the right to a minimum wage.⁠6
In California, there are several legal tests to determine whether a person is an employee or independent contractor. The tests are similar, but not identical. The appropriate test will depend on which rights or obligations are at issue. The most important tests are:
Although each test is slightly different, the key factor in each of them is the same: the degree of control the hiring party exercises over the worker. The more control the hiring party exercises, the more likely it is that the worker will be considered an employee.⁠12
The rest of this article will examine each of these tests and explain why the distinction between employees and independent contractors matters to workers and businesses alike.
References
Labor Code, § 3353 ["'Independent contractor' means any person who renders service for a specified recompense for a specified result, under the control of his principal as to the result of his work only and not as to the means by which such result is accomplished."].↥
Labor Code, § 3351; see also Cal. Code Regs., tit. 8, § 11150, subd. (2)(F) ["'Employee' means any person employed by an employer."].↥
See, e.g., Cal. Code Regs., tit. 8, § 11150, subd. (2)(G) ["'Employer' means any person as defined in Section 18 of the Labor Code, who directly or indirectly, or through an agent or any other person, employs or exercises control over the wages, hours, or working conditions of any person."].↥
29 U.S.C. § 207; Labor Code, § 510, subd. (a).↥
See Labor Code, § 512, subd. (a); Cal. Code Regs., tit. 8, §§ 11010⁠–⁠11170 [wage orders of the California Industrial Welfare Commission].↥
Labor Code, § 1182.12, subds. (b).↥
See Labor Code, § 2775, subd. (b); Dynamex Operations West, Inc. v. Superior Court of Los Angeles (2018) 4 Cal.5th 903.↥
See Labor Code, § 2775, subds. (b)(2), (b)(3); S. G. Borello & Sons, Inc. v. Department of Industrial Relations (1989) 48 Cal.3d 341.↥
See Ewens & Miller, Inc. v. Comm'r of Internal Revenue (2001) 117 T.C. 263, 270.↥
See Gov. Code, § 12940, subd. (j)(5).↥
See Nationwide Mut. Ins. Co. v. Darden (1992) 503 U.S. 318, 324 [112 S.Ct. 1344, 1348].↥
See, e.g., Ewens & Miller, Inc. v. Comm'r of Internal Revenue (2001) 117 T.C. 263, 270 [IRS test]; Estrada v. FedEx Ground Package System, Inc. (2007) 154 Cal.App.4th 1, 10 [California test]; Nationwide Mut. Ins. Co. v. Darden (1992) 503 U.S. 318, 324 [112 S.Ct. 1344, 1348] [federal court test]; Gov. Code, § 12940, subd. (j)(5) [the test defining "independent contractor" under California's anti-discrimination laws].↥
29 U.S.C. § 207; Labor Code, § 510, subd. (a).↥
See Labor Code, § 512, subd. (a); Cal. Code Regs., tit. 8, §§ 11010⁠–⁠11170 [wage orders of the California Industrial Welfare Commission].↥
Labor Code, § 1182.12, subd. (b).↥
Gov. Code, § 12940, subd. (a); 42 U.S.C. § 2000e-2(a)(1) [prohibiting workplace discrimination on the basis of certain protected categories, like race, color, national origin, religion, and sex].↥
Employers must withhold the income taxes of employees receiving "wages" as defined in 26 U.S.C. § 3401(a).↥
26 U.S.C. § 3101⁠–⁠3241.↥
Cal. Code Regs., tit. 8, §§ 330⁠–⁠344.90.↥
Labor Code, § 3700 [all California employers must provide workers compensation benefits to their employees].↥
Unemp. Ins. Code, § 100.↥
See, e.g., Gov. Code, § 12945.2.↥
S. G. Borello & Sons, Inc. v. Department of Industrial Relations (1989) 48 Cal.3d 341, 350 ["the right to control work details is the 'most important' or 'most significant' consideration"].↥
Compare, e.g., 29 U.S.C. § 206(a)(1)(C) [federal minimum wage] with Labor Code § 1182.12, subd. (b) [California's minimum wage]; see also 29 U.S.C. § 207 [federal overtime rules]; Labor Code, § 510 [California's overtime rules].↥
Labor Code, § 2775, subd. (b)(1) ["For purposes of this code and the Unemployment Insurance Code, and for the purposes of wage orders of the Industrial Welfare Commission, a person providing labor or services for remuneration shall be considered an employee rather than an independent contractor unless the hiring entity demonstrates that all of the following conditions are satisfied: . . . ."].↥
Labor Code, § 2775, subd. (b)(1)(A) ["The person is free from the control and direction of the hiring entity in connection with the performance of the work, both under the contract for the performance of the work and in fact."].↥
Labor Code, § 2775, subd. (b)(1)(B) ["The person performs work that is outside the usual course of the hiring entity's business."].↥
Labor Code, § 2775, subd. (b)(1)(C) ["The person is customarily engaged in an independently established trade, occupation, or business of the same nature as that involved in the work performed."].↥
See, e.g., Labor Code, §§ 2775, subds. (b)(2), (b)(3), 2776—2784.↥
Dynamex Operations West, Inc. v. Superior Court (2018) 4 Cal.5th 903.↥
See S. G. Borello & Sons, Inc. v. Department of Industrial Relations (1989) 48 Cal.3d 341.↥
See S. G. Borello & Sons, Inc. v. Department of Industrial Relations (1989) 48 Cal.3d 341.↥
Dynamex Operations West, Inc. v. Superior Court (2018) 4 Cal.5th 903.↥
Stats. 2019, ch. 296, Assem. Bill No. 5 (Opens in new window).↥
Stats. 2020, ch. 38, Assem. Bill No. 2257 (Opens in new window).↥
Labor Code, § 2775, subd. (b)(1)(A) [both the contract and the worker's actual performance of the work must allow for the worker to be free from the control and direction of the hiring entity before they can be considered an independent contractor]; S. G. Borello & Sons, Inc. v. Department of Industrial Relations (1989) 48 Cal.3d 341, 349 ["The label placed by the parties on their relationship is not dispositive, and subterfuges are not countenanced."].↥
Toyota Motor Sales U.S.A., Inc. v. Superior Court (1990) 220 Cal.App.3d 864, 877 ["The agreement characterizing the relationship as one of 'client—independent contractor' will be ignored if the parties, by their actual conduct, act like 'employer—employee.'"].↥
S. G. Borello & Sons, Inc. v. Department of Industrial Relations (1989) 48 Cal.3d 341, 349.↥
Labor Code, § 1182.12↥
Labor Code, § 515.↥
Labor Code, § 510.↥
Labor Code, § 6300, et seq.↥
Labor Code, § 2775, subd. (b)(1).↥
Labor Code, § 2775, subd. (b)(1).↥
Labor Code, § 2775, subd. (b)(1).↥
Labor Code, § 2775, subd. (b)(3) ["If a court of law rules that the three-part test in paragraph (1) cannot be applied to a particular context based on grounds other than an express exception to employment status as provided under paragraph (2), then the determination of employee or independent contractor status in that context shall instead be governed by the California Supreme Court's decision in S. G. Borello & Sons, Inc. v. Department of Industrial Relations (1989) 48 Cal.3d 341 (Borello)."].↥
See, e.g., Labor Code, § 2775, subd. (b)(2) ["Notwithstanding paragraph (1), any exceptions to the terms "employee," "employer," "employ," or "independent contractor," and any extensions of employer status or liability, that are expressly made by a provision of this code, the Unemployment Insurance Code, or in an applicable order of the Industrial Welfare Commission, including, but not limited to, the definition of "employee" in subdivision 2(E) of Wage Order No. 2, shall remain in effect for the purposes set forth therein."].↥
See, e.g., Labor Code, §§ 2776—2784.↥
Labor Code, § 2783, subd. (a).↥
Labor Code, § 2783, subd. (b).↥
Labor Code, § 2783, subd. (b).↥
To qualify for this exception to the ABC test, the license must be issued by the State of California pursuant to Business and Professions Code sections 500 through 4999.122. (Labor Code, § 2783, subd. (b).)↥
Labor Code, § 2783, subd. (b).↥
Labor Code, § 2783, subd. (b).↥
Labor Code, § 2750.6.↥
See Health & Saf. Code, § 1204 [defining the classes of primary care clinics eligible for licensure].↥
Labor Code, § 2750.6.↥
Labor Code, § 2783, subd. (c).↥
Labor Code, § 2783, subd. (d).↥
The license mentioned in this option applies specifically to people licensed under Corporations Code sections 25210 through 25256. (Labor Code, § 2783, subd. (d).)↥
Labor Code, § 2783, subd. (d).↥
Labor Code, § 2778.↥
Labor Code, § 2778, subd. (a)(1).↥
Labor Code, § 2778, subd. (a)(2).↥
Labor Code, § 2778, subd. (a)(3).↥
Labor Code, § 2778, subd. (a)(4).↥
Labor Code, § 2778, subd. (a)(5).↥
Labor Code, § 2778, subd. (a)(6).↥
Labor Code, § 2778, subd. (b).↥
Labor Code, § 2778, subd. (b)(2)(A).↥
Labor Code, § 2778, subd. (b)(2)(B).↥
Labor Code, § 2778, subd. (b)(2)(C).↥
Labor Code, § 2778, subd. (b)(2)(D).↥
Labor Code, § 2778, subd. (b)(2)(E).↥
Labor Code, § 2778, subd. (b)(2)(F).↥
Labor Code, § 2778, subd. (b)(2)(G).↥
Labor Code, § 2778, subd. (b)(2)(H).↥
Labor Code, § 2778, subd. (b)(2)(I).↥
Labor Code, § 2778, subd. (b)(2)(J).↥
Labor Code, § 2778, subd. (b)(2)(K).↥
Labor Code, § 2778, subd. (b)(2)(L).↥
Labor Code, § 2778, subd. (b)(2)(M).↥
Labor Code, § 2778, subd. (b)(2)(N).↥
Labor Code, § 2778, subd. (b)(2)(O).↥
Labor Code, § 2750.5; see Bus. & Prof. Code, §§ 7000⁠–⁠7191 [contractor licensing].↥
Labor Code, § 2750.5 ["There is a rebuttable presumption affecting the burden of proof that a worker performing services for which a license is required pursuant to Chapter 9 (commencing with Section 7000) of Division 3 of the Business and Professions Code, or who is performing such services for a person who is required to obtain such a license is an employee rather than an independent contractor."].↥
Labor Code, § 2750.5.↥
Labor Code, § 2750.5, subd. (c) [requiring proof that "the individual's independent contractor status is bona fide and not a subterfuge to avoid employee status"].↥
Labor Code, § 2783, subd. (e).↥
Labor Code, § 2776.↥
Labor Code, § 2777.↥
Labor Code, § 2778, subd. (b)(1).↥
Labor Code, § 2778, subd. (b)(2).↥
Labor Code, § 2778, subd. (b)(3).↥
Labor Code, § 2779.↥
Labor Code, § 2780.↥
Labor Code, § 2781.↥
Labor Code, § 2782.↥
Labor Code, § 2783, subd. (f).↥
Labor Code, § 2783, subd. (g).↥
Labor Code, § 2783, subd. (h).↥
Labor Code, § 2783, subd. (i).↥
Labor Code, § 2783, subd. (j).↥
Labor Code, § 2784.↥
See Labor Code, § 2783.↥
See Labor Code, § 2775, subd. (b)(3) ["If a court of law rules that the three-part test in paragraph (1) cannot be applied to a particular context based on grounds other than an express exception to employment status as provided under paragraph (2), then the determination of employee or independent contractor status in that context shall instead be governed by the California Supreme Court's decision in S. G. Borello & Sons, Inc. v. Department of Industrial Relations (1989) 48 Cal.3d 341 (Borello)."].↥
S. G. Borello & Sons, Inc. v. Department of Industrial Relations (1989) 48 Cal.3d 341.↥
Labor Code, § 2750 ["The contract of employment is a contract by which one, who is called the employer, engages another, who is called the employee, to do something for the benefit of the employer or a third person."].↥
Labor Code, § 18 ["'Person' means any person, association, organization, partnership, business trust, limited liability company, or corporation."].↥
S. G. Borello & Sons, Inc. v. Department of Industrial Relations (1989) 48 Cal.3d 341, 350; see also Labor Code, § 3353 [defining "independent contractor" as "any person who renders service for a specified recompense for a specified result, under the control of his principal as to the result of his work only and not as to the means by which such result is accomplished."].↥
Estrada v. FedEx Ground Package System, Inc. (2007) 154 Cal.App.4th 1, 10 ["The essence of the test is the 'control of details'—that is, whether the principal has the right to control the manner and means by which the worker accomplishes the work"]; see also Labor Code, § 3351 ["'Employee' means every person in the service of an employer under any appointment or contract of hire or apprenticeship, express or implied, oral or written, whether lawfully or unlawfully employed . . . ."].↥
Tieberg v. Unemployment Ins. Appeals Board (1970) 2 Cal.3d 943, 946⁠–⁠947.↥
Ayala v. Antelope Valley Newspapers, Inc. (2014) 59 Cal.4th 522, 528 ["Whether a common law employer-employee relationship exists turns foremost on the degree of a hirer's right to control how the end result is achieved."].↥
Ayala v. Antelope Valley Newspapers, Inc. (2014) 59 Cal.4th 522, 535.↥
Hardin v. Elvitsky (1965) 232 Cal.App.2d 357, 373 ["The determination of whether the status of an employee or that of an independent contractor exists is governed primarily by the right of control which rests in the employer, rather than by his actual exercise of control; and where no express agreement is shown as to the right of the claimed employer to control the mode and manner of doing the work, the existence or non-existence of the right must be determined by reasonable inferences drawn from the circumstances shown, and is a question for the jury."].↥
Burlingham v. Gray (1943) 22 Cal.2d 87, 100 ["Where there is shown no express agreement as to the right of the claimed employer to control the mode and manner of doing the work, the existence or nonexistence of the right must be determined by reasonable inferences drawn from the circumstances shown, and is a question for the jury."].↥
S. G. Borello & Sons, Inc. v. Department of Industrial Relations (1989) 48 Cal.3d 341, 350 ["[T]he courts have long recognized that the 'control' test, applied rigidly and in isolation, is often of little use in evaluating the infinite variety of service arrangements. While conceding that the right to control work details is the 'most important' or 'most significant' consideration, the authorities also endorse several 'secondary' indicia of the nature of a service relationship."].↥
Arnold v. Mutual of Omaha Ins. Co. (2011) 202 Cal.App.4th 580, 584.↥
S. G. Borello & Sons, Inc. v. Department of Industrial Relations (1989) 48 Cal.3d 341, 351 [considering "the kind of occupation, with reference to whether, in the locality, the work is usually done under the direction of the principal or by a specialist without supervision"].↥
Ayala v. Antelope Valley Newspapers, Inc. (2014) 59 Cal.4th 522, 539 ["[T]he hirer's right to fire at will and the basic level of skill called for by the job, are often of inordinate importance."].↥
Tieberg v. Unemployment Ins. Appeals Board (1970) 2 Cal.3d 943, 949 [considering "whether or not the one performing services is engaged in a distinct occupation or business"].↥
Estrada v. FedEx Ground Package System, Inc. (2007) 154 Cal.App.4th 1, 10 [considering "whether the worker is engaged in a distinct occupation or business"].↥
S. G. Borello & Sons, Inc. v. Department of Industrial Relations (1989) 48 Cal.3d 341, 355 [noting that other jurisdictions consider "the alleged employee's opportunity for profit or loss depending on his managerial skill"].↥
Arnold v. Mutual of Omaha Ins. Co. (2011) 202 Cal.App.4th 580, 584 [considering "whether the principal or the worker supplies the instrumentalities, tools, and the place of work for the person doing the work"].↥
Tieberg v. Unemployment Ins. Appeals Board (1970) 2 Cal.3d 943, 949 [considering "the length of time for which the services are to be performed"].↥
Varisco v. Gateway Science & Engineering, Inc. (2008) 166 Cal.App.4th 1099, 1103 [considering "the method of payment, whether by the time or by the job"].↥
Ayala v. Antelope Valley Newspapers, Inc. (2014) 59 Cal.4th 522, 539 ["[T]he hirer's right to fire at will and the basic level of skill called for by the job, are often of inordinate importance."].↥
S. G. Borello & Sons, Inc. v. Department of Industrial Relations (1989) 48 Cal.3d 341, 351 [considering "whether or not the parties believe they are creating the relationship of employer-employee"].↥
Germann v. Workers' Comp. Appeals Bd. (1981) 123 Cal.App.3d 776, 783 ["Not all these factors are of equal weight. The decisive test is the right of control, not only as to results, but as to the manner in which the work is done. . . . Generally, however, the individual factors cannot be applied mechanically as separate tests; they are intertwined and their weight depends often on particular combinations."].↥
See Labor Code, § 3357 ["Any person rendering service for another, other than as an independent contractor, or unless expressly excluded herein, is presumed to be an employee."]; see also Jones v. Workers' Comp. Appeals Bd. (1971) 20 Cal.App.3d 124, 127 [applying a presumption that a worker is an employee if they "perform work 'for another'"].↥
Yellow Cab Coop. v. Workers' Comp. Appeals Bd. (1991) 226 Cal.App.3d 1288, 1295 ["the statutory test of 'control' may be satisfied even where 'complete control' or 'control over details' is lacking -- at least where the principal retains pervasive control over the operation as a whole, the worker's duties are an integral part of the operation, the nature of the work makes detailed control unnecessary, and adherence to statutory purpose favors a finding of coverage."].↥
Yellow Cab Coop. v. Workers' Comp. Appeals Bd. (1991) 226 Cal.App.3d 1288, 1295.↥
Yellow Cab Coop. v. Workers' Comp. Appeals Bd. (1991) 226 Cal.App.3d 1288, 1295.↥
See Labor Code, § 3201; Cal. Const., art. XIV, § 4.↥
Labor Code, § 3205.↥
See, e.g., Johnson v. Workmen's Comp. Appeals Bd. (1974) 41 Cal.App.3d 318, 321.↥
Greydanus v. Industrial Accident Comm'n (1965) 63 Cal.2d 490, 493 ["[I]t is well recognized that workmen's compensation statutes are to be construed liberally in favor of awarding compensation."].↥
S. G. Borello & Sons, Inc. v. Department of Industrial Relations (1989) 48 Cal.3d 341, 351 ["[T]he concept of 'employment' embodied in the [Workers Compensation] Act is not inherently limited by common law principles. We have acknowledged that the Act's definition of the employment relationship must be construed with particular reference to the 'history and fundamental purposes' of the statute."].↥
Truesdale v. Workers' Comp. Appeals Bd. (1987) 190 Cal.App.3d 608, 617; Johnson v. Workmen's Comp. Appeals Bd. (1974) 41 Cal.App.3d 318, 322 ["[R]ather than relying merely upon the specific and several tests listed in Tieberg and Empire Star, we should also consider (a) the purpose of the statute and the intention of the Legislature, (b) the persons sought to be protected, (c) if the petitioner is or is not of a class of persons generally intended to be protected, (d) whether there are any other specific statutory exclusions, and (e) what are the relative bargaining positions of the parties mentally, economically and educationally."].↥
Greydanus v. Industrial Accident Comm'n (1965) 63 Cal.2d 490, 493.↥
26 U.S.C. §§ 1401⁠–⁠1403.↥
26 U.S.C. §§ 3101⁠–⁠3128.↥
26 U.S.C. §§ 3301⁠–⁠3311.↥
26 U.S.C. §§ 3401⁠–⁠3406.↥
Weber v. Commissioner (1994) 103 T.C. 378, 387 ["Generally the relationship of employer and employee exists when the person for whom services are performed has the right to control and direct the individual who performs the services, not only as to the result to be accomplished by the work but also as to the details and means by which that result is accomplished. That is, an employee is subject to the will and control of the employer not only as to what shall be done but how it shall be done."]; Professional & Executive Leasing v. Commissioner (9th Cir. 1988) 862 F.2d 751, 753; see also 26 U.S.C. § 3121(d)(2) ["any individual who, under the usual common law rules applicable in determining the employer-employee relationship, has the status of an employee"]; 26 C.F.R. § 31.3121(d)-1(c)(1) ["Every individual is an employee if under the usual common law rules the relationship between him and the person for whom he performs services is the legal relationship of employer and employee."].↥
Ewens & Miller, Inc. v. Comm'r of Internal Revenue (2001) 117 T.C. 263, 270.↥
See Internal Revenue Service, Publication 15-A: Employer's Supplemental Tax Guide (2017), available here (Opens in new window). This guide provides a simplified version of the IRS's traditional multi-part test, which is outlined in Ewens & Miller, Inc. v. Comm'r of Internal Revenue (2001) 117 T.C. 263, 270.↥
See Ewens & Miller, Inc. v. Comm'r of Internal Revenue (2001) 117 T.C. 263, 270.↥
Matthews v. Commissioner (1989) 92 T.C. 351, 361 ["In determining the existence of a common law employer-employee relationship, the crucial test lies in the right of control, or lack of it, which the employer may exercise respecting the manner in which the service is to be performed and the means to be employed in its accomplishment, as well as the result to be obtained."], citations and quotation marks omitted; Weber v. Commissioner (1994) 103 T.C. 378, 387 ["No one factor dictates the outcome. Rather, we must look at all the facts and circumstances of each case."].↥
NLRB v. United Ins. Co. (1968) 390 U.S. 254, 258 [88 S.Ct. 988, 991] ["In such a situation as this there is no shorthand formula or magic phrase that can be applied to find the answer, but all of the incidents of the relationship must be assessed and weighed with no one factor being decisive."].↥
26 U.S.C. § 3121(d)(3)(A) [defining "employee" to include "an agent-driver or commission-driver engaged in distributing meat products, vegetable products, fruit products, bakery products, beverages (other than milk), or laundry or dry-cleaning services, for his principal"].↥
26 U.S.C. § 3121(d)(3)(B) [defining "employee" to include "a full-time life insurance salesman"].↥
26 U.S.C. § 3121(d)(3)(D) [defining "employee" to include "a traveling or city salesman, other than as an agent-driver or commission-driver, engaged upon a full-time basis in the solicitation on behalf of, and the transmission to, his principal (except for side-line sales activities on behalf of some other person) of orders from wholesalers, retailers, contractors, or operators of hotels, restaurants, or other similar establishments for merchandise for resale or supplies for use in their business operations"].↥
26 U.S.C. § 3121(d)(3)(C) [defining "employee" to include "a home worker performing work, according to specifications furnished by the person for whom the services are performed, on materials or goods furnished by such person which are required to be returned to such person or a person designated by him"].↥
26 U.S.C. § 3121(d)(3) [the statutory employee exception applies "if the contract of service contemplates that substantially all of such services are to be performed personally by such individual; except that an individual shall not be included in the term 'employee' under the provisions of this paragraph if such individual has a substantial investment in facilities used in connection with the performance of such services (other than in facilities for transportation), or if the services are in the nature of a single transaction not part of a continuing relationship with the person for whom the services are performed"].↥
26 U.S.C. § 3121(d)(3).↥
26 U.S.C. §§ 3506(a), 3508(c).↥
26 U.S.C. § 3508(b)(1).↥
26 U.S.C. § 3508(b)(2).↥
26 U.S.C. § 3506(b) ["For purposes of this section, the term 'sitters' means individuals who furnish personal attendance, companionship, or household care services to children or to individuals who are elderly or disabled."].↥
26 U.S.C. § 3506(a) ["For purposes of this subtitle, a person engaged in the trade or business of putting sitters in touch with individuals who wish to employ them shall not be treated as the employer of such sitters (and such sitters shall not be treated as employees of such person) if such person does not pay or receive the salary or wages of the sitters and is compensated by the sitters or the persons who employ them on a fee basis."].↥
Gov. Code, § 12940, subd. (a); Flannery v. California Highway Patrol (1998) 61 Cal.App.4th 629, 638 ["The broad purpose of the FEHA is to safeguard an employee's right to seek, obtain, and hold employment without experiencing discrimination on account of race, religious creed, color, national origin, ancestry, physical handicap, medical condition, marital status, sex, or age."].↥
See Gov. Code, § 12940, subd. (a).↥
Shephard v. Loyola Marymount Univ. (2002) 102 Cal.App.4th 837, 842 ["In order to recover under the discrimination in employment provisions of the FEHA, the aggrieved plaintiff must be an employee."].↥
Gov. Code, § 12940; Sada v. Robert F. Kennedy Med. Ctr. (1997) 56 Cal.App.4th 138, 144.↥
Cal. Code Regs., tit. 2, § 11008, subd. (c)(5) ["An individual compensated by a temporary service agency for work to be performed for an employer contracting with the temporary service agency is an employee of that employer for such terms, conditions and privileges of employment under the control of that employer. Such an individual also is an employee of the temporary service agency with regard to such terms, conditions and privileges of employment under the control of the temporary service agency."].↥
Gov. Code, § 12940, subds. (c), (j), & (l).↥
Gov. Code, § 12940, subd. (a); see also Estrada v. City of Los Angeles (2013) 218 Cal.App.4th 143, 155 [unpaid volunteer found to not be an employee within the meaning of FEHA].↥
Gov. Code, § 12940, subd. (j).↥
Gov. Code, § 12940, subd. (j)(5).↥
See Cal. Code Regs., tit. 2, § 11008, subd. (c)(1) ["'Employee' does not include an independent contractor as defined in Labor Code section 3353."].↥
Gov. Code, § 12940, subd. (j)(5).↥
See S. G. Borello & Sons, Inc. v. Department of Industrial Relations (1989) 48 Cal.3d 341, 350.↥
Gov. Code, § 12940, subd. (j)(5).↥
Gov. Code, § 12926, subd. (c); Mendoza v. Town of Ross (2005) 128 Cal.App.4th 625, 632 [noting that FEHA excludes persons employed by close relatives].↥
Gov. Code, § 12926, subd. (c); Cal. Code Regs., tit. 2, § 11008, subd. (c)(2) ["'Employee' does not include any individual employed by his or her parents, by his or her spouse, or by his or her child."].↥
Gov. Code, § 12926.05, subd. (a); Cal. Code Regs., tit. 2, § 11008, subd. (c)(3) ["'Employee' does not include any individual employed under special license in a non-profit sheltered workshop or rehabilitation facility."].↥
Gov. Code, § 12926.05; Labor Code, §§ 1191, 1191.5.↥
Gov. Code, § 12926.05, subd. (b)(2).↥
Gov. Code, § 12926, subd. (d).↥
Cal. Code Regs., tit. 2, § 11008, subd. (d)(5) ["A religious association or religious corporation not organized for private profit is not an employer under the meaning of this Act; any non-profit religious organization exempt from federal and state income tax as a non-profit religious organization is presumed not to be an employer under this Act. Notwithstanding such status, any portion of such tax exempt religious association or religious corporation subject to state or federal income taxes as an unrelated business and regularly employing five or more individuals is an employer."].↥
See Gov. Code, § 12926.2.↥
Cal. Code Regs., tit. 2, § 11008, subd. (d)(6) ["'Employer' includes any non-profit corporation or non-profit association other than that defined in subsection (5)."].↥
Compare, e.g., 29 U.S.C. § 206(a)(1)(C) [federal minimum wage] with Labor Code § 1182.12, subd. (b) [California's minimum wage]; see also 29 U.S.C. § 207 [federal overtime rules]; Labor Code, § 510 [California's overtime rules].↥
Spirides v. Reinhardt (D.C. Cir. 1979) 613 F.2d 826, 831 ["determination of whether an individual is an employee or an independent contractor for purposes of the Act involves, as appellant suggests, analysis of the 'economic realities' of the work relationship."].↥
Real v. Driscoll Strawberry Associates, Inc. (9th Cir. 1979) 603 F.2d 748, 755.↥
Nationwide Mut. Ins. Co. v. Darden (1992) 503 U.S. 318, 323 [112 S.Ct. 1344, 1348].↥
Cmty. for Creative Non-Violence v. Reid (1989) 490 U.S. 730, 751 752 [109 S.Ct. 2166, 2179].↥
Nationwide Mut. Ins. Co. v. Darden (1992) 503 U.S. 318, 324 [112 S.Ct. 1344, 1348]; Cmty. for Creative Non-Violence v. Reid (1989) 490 U.S. 730, 751-752 [109 S.Ct. 2166, 2178 2179]; Loomis Cabinet Co. v. OSHRC (9th Cir. 1994) 20 F.3d 938, 942.↥
Nationwide Mut. Ins. Co. v. Darden (1992) 503 U.S. 318, 324 [112 S.Ct. 1344, 1348] [describing these as "nonexhaustive criteria"].↥
Cmty. for Creative Non-Violence v. Reid (1989) 490 U.S. 730, 752 [109 S.Ct. 2166, 2179] ["No one of these factors is determinative."].↥
NLRB v. United Ins. Co. (1968) 390 U.S. 254, 258 [88 S.Ct. 988, 991] ["total factual context is assessed in light of the pertinent common-law agency principles"].↥
Loomis Cabinet Co. v. OSHRC (9th Cir. 1994) 20 F.3d 938, 942.↥
Labor Code, § 2753, subd. (a) ["A person who, for money or other valuable consideration, knowingly advises an employer to treat an individual as an independent contractor to avoid employee status for that individual shall be jointly and severally liable with the employer if the individual is found not to be an independent contractor."].↥
Labor Code § 226.8.↥
Labor Code § 2802, subd. (a) ["An employer shall indemnify his or her employee for all necessary expenditures or losses incurred by the employee in direct consequence of the discharge of his or her duties, or of his or her obedience to the directions of the employer, even though unlawful, unless the employee, at the time of obeying the directions, believed them to be unlawful."].↥
Code Civ. Proc., § 338, subd. (a) [statute of limitations: "Within three years: (a) An action upon a liability created by statute, other than a penalty or forfeiture."]; Aubry v. Goldhor (1988) 201 Cal.App.3d 399, 404 ["[A]n employer's obligation to pay overtime compensation to his employee would not exist but for the Labor Code. An action to enforce that obligation therefore is governed by the three-year statute of limitations . . . ."].↥
Labor Code, §§ 210, subd. (a)(1), 225, subd. (a).↥
Labor Code, §§ 210, subd. (a)(2), 225, subd. (b).↥
Labor Code, §§ 210, 225.↥
Labor Code, §§ 2698⁠–⁠2699.5.↥
Labor Code, § 2699, subd. (a).↥
Labor Code, § 2699, subds. (g), (i).↥
Labor Code, § 203, subd. (a); see McLean v. State of California (2016) 1 Cal.5th 615, 619 ["An 'employer' that 'willfully fails to pay' in accordance with sections 201 and 202 'any wages of an employee who is discharged or who quits' is subject to so-called waiting-time penalties of up to 30 days' wages."].↥
Labor Code, § 203, subd. (a) ["If an employer willfully fails to pay, without abatement or reduction, in accordance with Sections 201, 201.3, 201.5, 201.6, 201.8, 201.9, 202, and 205.5, any wages of an employee who is discharged or who quits, the wages of the employee shall continue as a penalty from the due date thereof at the same rate until paid or until an action therefor is commenced; but the wages shall not continue for more than 30 days. An employee who secretes or absents himself or herself to avoid payment to him or her, or who refuses to receive the payment when fully tendered to him or her, including any penalty then accrued under this section, is not entitled to any benefit under this section for the time during which he or she so avoids payment."].↥
Labor Code, § 203.↥
Mamika v. Barca (1998) 68 Cal.App.4th 487, 493 ["[T]he critical computation required by section 203 is the calculation of a daily wage rate, which can then be multiplied by the number of days of nonpayment, up to 30 days."].↥
Drumm v. Morningstar, Inc. (N.D. Cal. 2010) 695 F.Supp.2d 1014, 1019 [approving jury instruction specifying this manner of calculation].↥
Labor Code § 226.8.↥
Labor Code, § 226; Labor Code, § 2699, subd. (f).↥
Labor Code, § 226.3.↥
Labor Code, §§ 2699, subds. (g), (i), 2802, subd. (c) ["For purposes of this section, the term 'necessary expenditures or losses' shall include all reasonable costs, including, but not limited to, attorney's fees incurred by the employee enforcing the rights granted by this section."].↥
Labor Code, § 2802 ["Interest shall accrue from the date on which the employee incurred the necessary expenditure or loss."].↥
26 U.S.C. §§ 3102, 3403, 3509.↥
26 U.S.C. § 7201 ["Any person who willfully attempts in any manner to evade or defeat any tax imposed by this title or the payment thereof shall, in addition to other penalties provided by law, be guilty of a felony and, upon conviction thereof, shall be fined not more than $ 100,000 ($ 500,000 in the case of a corporation), or imprisoned not more than 5 years, or both, together with the costs of prosecution."]; see, e.g., United States v. Jungles (7th Cir. 1990) 903 F.2d 468, 472.↥
Labor Code, § 226.6.↥
Labor Code, § 1102.5, subd. (a); Health & Saf. Code, §§ 1596.881, 1596.882.↥
Labor Code, § 1102.5, subd. (a).↥
Labor Code, § 98, subd. (a); Post v. Palo/Haklar & Associates (2000) 23 Cal.4th 942, 946 ["[I]f an employer fails to pay wages in the amount, time, or manner required by contract or statute, the employee may seek administrative relief by filing a wage claim with the commissioner or, in the alternative, may seek judicial relief by filing an ordinary civil action for breach of contract and/or for the wages prescribed by statute."].↥
Labor Code, § 1102.5, subd. (a).↥
Labor Code, § 1102.5, subd. (b).↥