Maternity Leave Law in California
Many women have a right to take maternity leave under the law. This article explains the rights of expecting mothers in California.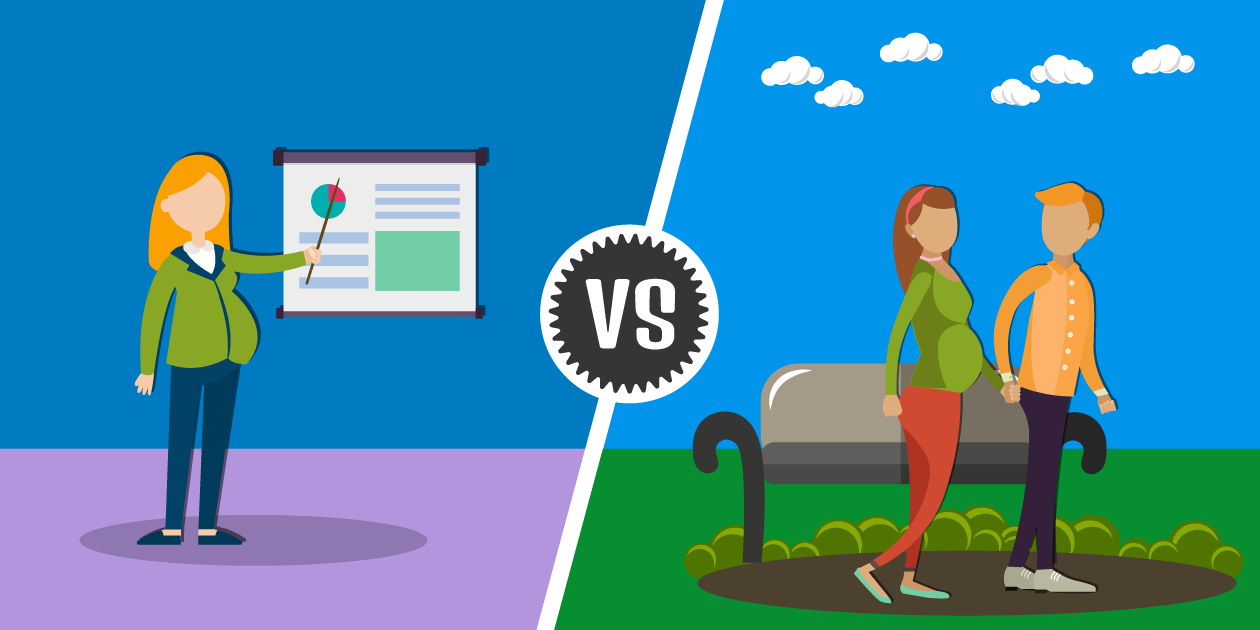 Maternity leave is the time a woman takes off from her job for the birth, adoption, or foster care placement of her new child. In California, many women have a legal right to be absent from work during and after their pregnancy, without having to risk losing their jobs.⁠1 Some women also have a right to be paid during maternity leave.
This article takes a closer look at these rights and other laws protecting maternity leave for employees in California.⁠2
References
Gov. Code, § 12926, subd. (d); 29 U.S.C., § 2601, et. seq.↥
Unless otherwise mentioned, the laws in this article do not apply to employees of the federal government or certain federal contractors.↥
Gov. Code, § 12945.↥
Gov. Code, § 12945.2.↥
Gov. Code, § 12940, subd. (m).↥
See, e.g., Sanchez v. Swissport, Inc. (2013) 213 Cal.App.4th 1331; Cal. Code Regs., tit. 2, §§ 11065, subd. (p)(2)(M), 11068, subd. (c).↥
Cal. Code Regs., tit. 2, § 11046, subd. (a) ["The right to take a pregnancy disability leave under Government Code section 12945 and these regulations is separate and distinct from the right to take leave under the California Family Rights Act (CFRA), Government Code sections 12945.1 and 12945.2."].↥
See Gov. Code, §§ 12945, 12945.2; Cal. Code Regs., tit. 2, § 11044, subd. (a) ["An employer is not required to pay an employee during pregnancy disability leave unless the employer pays for other temporary disability leaves for similarly situated employees."]; California Federal Sav. & Loan Ass'n v. Guerra (1987) 479 U.S. 272, 275⁠–⁠276 (107 S.Ct. 683, 686⁠–⁠687) ["California's Fair Employment and Housing Act (FEHA) . . . requires these employers to provide female employees an unpaid pregnancy disability leave of up to four months."], emphasis added.↥
Gov. Code, § 12945, subd. (a)(1).↥
California's Pregnancy Disability Leave (PDL) law is codified at Government Code section 12945.↥
Gov. Code, §§ 12926, subd. (d), 12945, subd. (a); Cal. Code Regs., tit. 2, § 11035, subd. (e).↥
Gov. Code, § 12945, subd. (a)(1); Cal. Code Regs., tit. 2, § 11042, subd. (a)(1) ["Employees are eligible for up to four months of leave per pregnancy, not per year."].↥
Cal. Code Regs., tit. 2, § 11042, subd. (a) ["Pregnancy disability leave does not need to be taken in one continuous period of time."].↥
Gov. Code, § 12945, subd. (a)(1).↥
Sanchez v. Swissport, Inc. (2013) 213 Cal.App.4th 1331, 1339 ["Under section 12940, a woman disabled by pregnancy is entitled to the protections afforded any other disabled employee⁠—⁠a reasonable accommodation that does not impose an undue hardship on her employer."]; Cal. Code Regs., tit. 2, § 11068, subd. (a).↥
Cal. Code Regs., tit. 2, § 11035, subd. (f) ["A woman is 'disabled by pregnancy' if, in the opinion of her health care provider, she is unable because of pregnancy to perform any one or more of the essential functions of her job or to perform any of these functions without undue risk to herself, to her pregnancy's successful completion, or to other persons."].↥
Cal. Code Regs., tit. 2, § 11035, subd. (f).↥
Cal. Code Regs., tit. 2, § 11035, subd. (f).↥
An agent is a person who acts on behalf of an employer. (Civ. Code, § 2295.) The employer must agree to have the agent act on its behalf for this type of relationship to exist. (Rental Housing Owners Assn. of Southern Alameda County, Inc. v. City of Hayward (2011) 200 Cal.App.4th 81, 91 ["An agency relationship is a bilateral matter created through mutual consent."].)↥
Gov. Code, § 12926, subd. (d), 12945, subd. (a); Cal. Code Regs., tit. 2, § 11035, subd. (e).↥
Gov. Code, § 12926, subd. (d).↥
Gov. Code, § 12945, subd. (a)(1).↥
Gov. Code, § 12926, subd. (d).↥
Gov. Code, § 12945, subd. (a)(1).↥
Cal. Code Regs., tit. 2, § 11037 ["There is no eligibility requirement, such as minimum hours worked or length of service, before an employee affected or disabled by pregnancy is eligible for reasonable accommodation, transfer, or disability leave."].↥
Cal. Code Regs., tit. 2, § 11035, subd. (f) ["Nothing in this Article shall exclude a transgender individual who is disabled by pregnancy."].↥
Cal. Code Regs., tit. 2, § 11043, subd. (a).↥
Cal. Code Regs., tit. 2, § 11043, subd. (c).↥
Gov. Code, § 12945.2.↥
Gov. Code, § 12945.2, subd. (c)(3)(A) ["'Family care and medical leave' means any of the following: . . . Leave for reason of the birth of a child of the employee, the placement of a child with an employee in connection with the adoption or foster care of the child by the employee, or the serious health condition of a child of the employee."].↥
Gov. Code, §§ 12945.2, subd. (s) ["An employee is entitled to take, in addition to the leave provided for under this section and the FMLA, the leave provided for in Section 12945, if the employee is otherwise qualified for that leave."].↥
Cal. Code Regs., tit. 2, § 11046, subd. (a).↥
On September 17, 2020, Governor Gavin Newsom signed Senate Bill No. 1383 (Opens in new window), which significantly expanded family and medical leave rights for California employees. This section reflects those changes, which began taking effect on January 1, 2021.↥
Gov. Code, § 12945.2, subds. (a), (b)(3)(A) [applying to employers with five or more employees].↥
Cal. Code Regs., tit. 2, § 11088, subd. (a) ["It is an unlawful employment practice for a covered employer to refuse to grant, upon reasonable request, a CFRA leave to an eligible employee."].↥
Cal. Code Regs., tit. 2, § 11090, subd. (d) ["CFRA leave taken for reason of the birth, adoption, or foster care placement of a child of the employee does not have to be taken in one continuous period of time. Any leave(s) taken shall be concluded within one year of the birth or placement of the child with the employee in connection with the adoption or foster care of the child by the employee."].↥
Cal. Code Regs., tit. 2, § 11090, subd. (d) ["The basic minimum duration of the leave shall be two weeks. However, an employer shall grant a request for a CFRA leave of less than two weeks' duration on any two occasions and may grant requests for additional occasions of leave lasting less than two weeks."].↥
Cal. Code Regs., tit. 2, § 11089, subd. (a)(1) ["Upon granting the CFRA leave, the employer shall inform the employee of its guarantee to reinstate the employee to the same or a comparable position, subject to the defenses permitted by section 11089(d), and shall provide the guarantee in writing upon request of the employee."].↥
Cal. Code Regs., tit. 2, § 11089, subd. (a)(2)(A) ["An employee is entitled to reinstatement even if the employee has been replaced or the employee's position has been restructured to accommodate the employee's absence."].↥
Cal. Code Regs., tit. 2, § 11089, subd. (b).↥
Cal. Code Regs., tit. 2, § 11089, subd. (b).↥
Cal. Code Regs., tit. 2, § 11089, subd. (b).↥
Cal. Code Regs., tit. 2, § 11089, subd. (a)(2)(B) ["If an employee is no longer qualified for the position because of the employee's inability to attend a necessary course, renew a license, fly a minimum number of hours, or other non-qualifying reason, as a result of the leave, the employee shall be given a reasonable opportunity to fulfill those conditions upon returning to work."].↥
Gov. Code, § 12940, subd. (a).↥
Gov. Code, §§ 12926, subd. (r)(1)(A), 12940, subd. (a), 12945.↥
Gov. Code, § 12940, subd. (a), (m); Gelfo v. Lockheed Martin Corp. (2006) 140 Cal.App.4th 34, 54 ["In addition to a general prohibition against unlawful employment discrimination based on disability, FEHA provides an independent cause of action for an employer's failure to provide a reasonable accommodation for an applicant's or employee's known disability."].↥
Nealy v. City of Santa Monica (2015) 234 Cal.App.4th 359, 373.↥
Sanchez v. Swissport, Inc. (2013) 213 Cal.App.4th 1331, 1338–1341.↥
Gov. Code, § 12926, subd. (d), 12940, subd. (a); Cal. Code Regs., tit. 2, § 11008, subd. (d).↥
Gov. Code, §§ 12926, subds. (f), (i)(2), 12926.1, 12940, subd. (a).↥
Gov. Code, § 12940, subd. (a), (m); Cal. Code Regs., tit. 2, § 11068, subd. (a).↥
Gov. Code, § 12940, subd. (m).↥
Gov. Code, § 12940, subd. (m) [making it unlawful "[f]or an employer or other entity covered by this part to fail to make reasonable accommodation for the known physical or mental disability of an applicant or employee."].↥
Gov. Code, § 12926, subd. (m)(1); Soria v. Univision Radio Los Angeles, Inc. (2016) 5 Cal.App.5th 570, 584; Colmenares v. Braemar Country Club, Inc. (2003) 29 Cal.4th 1019, 1026.↥
Gov. Code, § 12926, subd. (m)(1).↥
Gov. Code, § 12926, subd. (m)(1)(B)(ii) ["A physiological disease, disorder, condition, cosmetic disfigurement, or anatomical loss limits a major life activity if it makes the achievement of the major life activity difficult."].↥
Gov. Code, § 12926, subd. (m)(1)(B)(iii) ["'Major life activities' shall be broadly construed and includes physical, mental, and social activities and working."]; Cal. Code Regs., tit. 2, § 11065, subd. (l)(1) ["Major life activities include, but are not limited to, caring for oneself, performing manual tasks, seeing, hearing, eating, sleeping, walking, standing, sitting, reaching, lifting, bending, speaking, breathing, learning, reading, concentrating, thinking, communicating, interacting with others, and working."].↥
Gov. Code, § 12926, subd. (m)(2).↥
Gov. Code, § 12926, subd. (m)(3).↥
Gov. Code, § 12926, subds. (m)(4), (m)(5).↥
Cal. Code Regs., tit. 2, § 11065, subd. (d)(2)(C).↥
Cal. Code Regs., tit. 2, § 11065, subd. (d)(9)(B).↥
Cal. Code Regs., tit. 2, § 11065, subd. (d)(9)(B) ["Disability does not include: . . . conditions that are mild, which do not limit a major life activity, as determined on a case-by-case basis. These excluded conditions have little or no residual effects, such as the common cold; seasonal or common influenza; minor cuts, sprains, muscle aches, soreness, bruises, or abrasions; non-migraine headaches, and minor and non-chronic gastrointestinal disorders."].↥
Gov. Code, § 12926, subd. (j)(1); Cal. Code Regs., tit. 2, § 11065, subd. (d)(1).↥
Gov. Code, § 12940, subd. (a).↥
Gov. Code, § 12926, subd. (j)(4), (j)(5).↥
Cal. Code Regs., tit. 2, § 11065, subd. (d)(1).↥
Gov. Code, § 12926, subd. (j)(5); Cal. Code Regs., tit. 2, § 11065, subds. (d)(9)(A) ["Disability does not include: . . . compulsive gambling, kleptomania, pyromania, or psychoactive substance use disorders resulting from the current unlawful use of controlled substances or other drugs, and "sexual behavior disorders . . . ."], (q).↥
Nealy v. City of Santa Monica (2015) 234 Cal.App.4th 359, 373.↥
Hanson v. Lucky Stores, Inc. (1999) 74 Cal.App.4th 215, 228, fn. 11 ["the reasonableness of an accommodation is generally a factual question"].↥
Prilliman v. United Air Lines, Inc. (1997) 53 Cal.App.4th 935, 948.↥
Cal. Code Regs., tit. 2, § 11068, subd. (e).↥
Cal. Code Regs., tit. 2, § 11068, subd. (e).↥
Hanson v. Lucky Stores, Inc. (1999) 74 Cal.App.4th 215, 228 ["[T]he employer providing the accommodation has the ultimate discretion to choose between effective accommodations, and may choose the less expensive accommodation or the accommodation that is easier for it to provide." (Quotation marks omitted.)], quoting Hankins v. The Gap, Inc. (6th Cir. 1996) 84 F.3d 797, 800⁠–⁠801.↥
Sterling Transit Co. v. Fair Employment Practice Com. (1981) 121 Cal.App.3d 791, 798 ["An employer may refuse to hire persons whose physical handicap prevents them from performing their duties in a manner which does not endanger their health."].↥
Gov. Code, § 12926, subd. (p)(1).↥
Nealy v. City of Santa Monica (2015) 234 Cal.App.4th 359, 374; Gov. Code, § 12926, subd. (p)(2); Cal. Code Regs., tit. 2, § 11065, subd. (p)(2).↥
Cal. Code Regs., tit. 2, §§ 11065, subd. (p)(2)(M), 11068, subd. (c).↥
Cal. Code Regs., tit. 2, § 11068, subd. (c) ["When an employee can work with a reasonable accommodation other than a leave of absence, an employer may not require that the employee take a leave of absence."].↥
Gov. Code, § 12940, subd. (a)(1) ["This part does not prohibit an employer from refusing to hire or discharging an employee with a physical or mental disability . . . if the employee, because of a physical or mental disability, is unable to perform the employee's essential duties even with reasonable accommodations . . . ."].↥
Gov. Code, § 12926, subd. (f).↥
Gov. Code, § 12926, subd. (f)(1); Cal. Code Regs., tit. 2, § 11065, subd. (e)(1)(A); Lui v. San Francisco (2012) 211 Cal.App.4th 962, 972.↥
See, e.g., Gov. Code, § 12926, subd. (f)(1) ["A job function may be considered essential for any of several reasons, including, but not limited to, any one or more of the following . . . ."].↥
Gov. Code, § 12926, subd. (f); Cal. Code Regs., tit. 2, § 11065, subd. (e)(3) ["'Marginal functions' of an employment position are those that, if not performed, would not eliminate the need for the job or that could be readily performed by another employee or that could be performed in an alternative way."].↥
Cal. Code Regs., tit. 2, § 11065, subd. (e)(3).↥
Green v. State (2007) 42 Cal.4th 254, 258 ["[T]he FEHA requires employees to prove that they are qualified individuals under the statute just as the federal ADA requires."]; Cal. Code Regs., tit. 2, §§ 11065, subd. (o) ["'Qualified individual,' for purposes of disability discrimination under California Code of Regulations, title 2, section 11066, is an applicant or employee who has the requisite skill, experience, education, and other job-related requirements of the employment position such individual holds or desires, and who, with or without reasonable accommodation, can perform the essential functions of such position."], 11066, subd. (a) ["An applicant or employee has the burden of proof to establish that the applicant or employee is a qualified individual capable of performing the essential functions of the job with or without reasonable accommodation."].↥
Prilliman v. United Air Lines, Inc. (1997) 53 Cal.App.4th 935, 947; Cal. Code Regs., tit. 2, § 11065, subd. (r) ["'Undue hardship' means, with respect to the provision of an accommodation, an action requiring significant difficulty or expense incurred by an employer or other covered entity, when considered under the totality of the circumstances in light of the following factors: . . . ."].↥
Prilliman v. United Air Lines, Inc. (1997) 53 Cal.App.4th 935, 947; Cal. Code Regs., tit. 2, § 11065, subd. (r).↥
For other factors, see Cal. Code Regs., tit. 2, § 11065, subd. (r).↥
Gov. Code, § 12940, subd. (n); Cal. Code Regs., tit. 2, § 11069.↥
Wilson v. County of Orange (2009) 169 Cal.App.4th 1185, 1195.↥
Gov. Code, § 12940, subd. (n).↥
Cal. Code Regs., tit. 2, § 11069, subd. (a).↥
Gelfo v. Lockheed Martin Corp. (2006) 140 Cal.App.4th 34, 54.↥
Cal. Code Regs., tit. 2, § 11069, subds. (d)(1), (f).↥
Cal. Code Regs., tit. 2, § 11069, subd. (g).↥
Cal. Code Regs., tit. 2, § 11069, subd. (g).↥
Swanson v. Morongo Unified School Dist. (2014) 232 Cal.App.4th 954, 971 ["an employer's failure to properly engage in the process is separate from the failure to reasonably accommodate an employee's disability and gives rise to an independent cause of action"].↥
Cal. Code Regs., tit. 2, § 11069, subd. (d)(1).↥
Cal. Code Regs., tit. 2, § 11069, subd. (f).↥
Gov. Code, §§ 12945, subd. (a)(2), 12945.2, subd. (e).↥
Cal. Code Regs., tit. 2, § 11044, subd. (e) ["The employee shall retain employee status during the period of the pregnancy disability leave. The leave shall not constitute a break in service for purposes of longevity and/or seniority under any collective bargaining agreement or under any employee benefit plan. Benefits must be resumed upon the employee's reinstatement in the same manner and at the same levels as provided when the leave began, without any new qualification period, physical exam, or other qualifying provisions."].↥
Unemp. Ins. Code, § 2655, subd. (e); see also Dept. of Industrial Relations, DWC Announces Temporary Total Disability Rates for 2022 (Opens in new window) (October 25, 2021).↥
Unemp. Ins. Code, § 3301 ["No more than six weeks of family temporary disability insurance benefits shall be paid within any 12-month period."].↥
Unemp. Ins. Code, §§ 2655, subd. (e), 3301, subds. (b), (c); see State of California Employment Development Department, Paid Family Leave Benefits and Payments FAQs, available at the following: Frequently Asked Questions About Paid Family Leave Benefits and Payments (Opens in new window).↥
Gov. Code, §§ 12945, 12945.2, subd. (d).↥
Gov. Code, § 12945.2, subd. (d) ["An employee taking a leave permitted by subdivision (a) may elect, or an employer may require the employee, to substitute, for leave allowed under subdivision (a), any of the employee's accrued vacation leave or other accrued time off during this period or any other paid or unpaid time off negotiated with the employer."].↥
Cal. Code Regs., tit. 2, § 11044, subd. (b).↥
Cal. Code Regs., tit. 2, § 11044, subd. (b)(2).↥
Cal. Code Regs., tit. 2, § 11044, subd. (a) ["An employer is not required to pay an employee during pregnancy disability leave unless the employer pays for other temporary disability leaves for similarly situated employees."].↥
Gov. Code, § 12945, subd. (a)(1) ["An employer may require an employee who plans to take a leave pursuant to this subdivision to give the employer reasonable notice of the date the leave shall commence and the estimated duration of the leave."]; Cal. Code Regs., tit. 2, § 11091, subd. (a)(1).↥
Cal. Code Regs., tit. 2, § 11091, subd. (a)(1).↥
Cal. Code Regs., tit. 2, § 11042, subd. (c) ["It is an unlawful employment practice for an employer to refuse to grant pregnancy disability leave to an employee disabled by pregnancy."].↥
Cal. Code Regs., tit. 2, § 11091, subd. (a)(1).↥
Cal. Code Regs., tit. 2, § 11091, subd. (a)(2); Cal. Code Regs., tit. 2, § 11050, subd. (a)(3) ["If 30 days advance notice is not practicable, because it is not known when reasonable accommodation, transfer, or leave will be required to begin, or because of a change in circumstances, a medical emergency, or other good cause, notice must be given as soon as practicable."].↥
Cal. Code Regs., tit. 2, § 11050, subd. (a)(3); Cal. Code Regs., tit. 2, § 11091, subd. (a)(3).↥
Cal. Code Regs., tit. 2, § 11050, subd. (e)(4) ["An employer shall not deny reasonable accommodation, transfer, or pregnancy disability leave, the need for which is an emergency or is otherwise unforeseeable, on the basis that the employee did not provide adequate advance notice of the need for the reasonable accommodation, transfer, or leave."].↥
Cal. Code Regs., tit. 2, § 11050, subd. (b) ["As a condition of granting reasonable accommodation, transfer, or pregnancy disability leave, the employer may require written medical certification."].↥
Cal. Code Regs., tit. 2, § 11091, subd. (a)(1).↥
See Brundage v. Hahn (1997) 57 Cal.App.4th 228, 237 ["An adverse employment decision cannot be made 'because of' a disability, when the disability is not known to the employer. Thus, in order to prove an ADA claim, a plaintiff must prove the employer had knowledge of the employee's disability when the adverse employment decision was made."].↥
Faust v. California Portland Cement Co. (2007) 150 Cal.App.4th 864, 887.↥
Faust v. California Portland Cement Co. (2007) 150 Cal.App.4th 864, 887.↥
Scotch v. Art Institute of California-Orange County, Inc. (2009) 173 Cal.App.4th 986, 1013; Cal. Code Regs., tit. 2, § 11069, subd. (b).↥
Swanson v. Morongo Unified School Dist. (2014) 232 Cal.App.4th 954, 971.↥
Brundage v. Hahn (1997) 57 Cal.App.4th 228, 236⁠–⁠237.↥
Gov. Code, §§ 12926, subd. (r)(1)(A), 12940, subd. (a), 12945.↥
Johnson Controls v. Fair Employment & Hous. Com (1990) 218 Cal.App.3d 517, 533.↥
Gov. Code, § 12926, subd. (r)(1)(A), 12940, subd. (a).↥
Sanchez v. Swissport, Inc. (2013) 213 Cal.App.4th 1331, 1339 ["Under section 12940, a woman disabled by pregnancy is entitled to the protections afforded any other disabled employee⁠—⁠a reasonable accommodation that does not impose an undue hardship on her employer."]; Cal. Code Regs., tit. 2, § 11068, subd. (a).↥
See, e.g., Gov. Code, § 12945.↥
Labor Code, § 1030 ["Every employer, including the state and any political subdivision, shall provide a reasonable amount of break time to accommodate an employee desiring to express breast milk for the employee's infant child"]; 29 U.S.C. § 207(r) ["An employer shall provide⁠—⁠ (A) a reasonable break time for an employee to express breast milk for her nursing child . . . ."].↥
Sandell v. Taylor-Listug, Inc. (2010) 188 Cal.App.4th 297, 307; Knight v. Hayward Unified School Dist. (2005) 132 Cal.App.4th 121, 129.↥
Gov. Code, § 12940; CACI No. 2500 [Disparate Treatment ⁠—⁠ Essential Factual Elements].↥
An agent is a person who acts on behalf of an employer. (Civ. Code, § 2295.) The employer must agree to have the agent act on its behalf for this type of relationship to exist. (Rental Housing Owners Assn. of Southern Alameda County, Inc. v. City of Hayward (2011) 200 Cal.App.4th 81, 91 ["An agency relationship is a bilateral matter created through mutual consent."].)↥
Gov. Code, §§ 12926, subd. (d), 12940, subd. (a); Cal. Code Regs., tit. 2, § 11008, subd. (d).↥
Gov. Code, § 12926, subd. (d).↥
Reno v. Baird (1998) 18 Cal.4th 640, 663 ["[W]e conclude that individuals who do not themselves qualify as employers may not be sued under theFEHA for alleged discriminatory acts."]; Jones v. Lodge at Torrey Pines Partnership (2008) 42 Cal.4th 1158, 1173 ["[W]e conclude that the employer is liable for retaliation under section 12940, subdivision (h), but nonemployer individuals are not personally liable for their role in that retaliation."].↥
Le Bourgeois v. Fireplace Mfg. (1998) 68 Cal.App.4th 1049, 1054⁠–⁠1055 ["[D]iscrimination claims under theFEHA . . . may be maintained against employers, but not against supervisors individually."].↥
Gov. Code, § 12940, subd. (j)(4)(A) [defining "employer" to include "any person regularly employing one or more persons or regularly receiving the services of one or more persons providing services pursuant to a contract," for the purposes of harassment]; Page v. Superior Court (1995) 31 Cal.App.4th 1206, 1217 [FEHA's prohibition against harassment is not limited to employers of five or more persons. Rather, FEHA expressly makes the harassment prohibition applicable to employers of 'one or more persons.'"].↥
Gov. Code, § 12940, subd. (j)(3) ["An employee of an entity subject to this subdivision is personally liable for any harassment prohibited by this section that is perpetrated by the employee, regardless of whether the employer or covered entity knows or should have known of the conduct and fails to take immediate and appropriate corrective action."]; see also Roby v. McKesson Corp. (2009) 47 Cal.4th 686, 707 ["When the harasser is a supervisor, the employer is strictly liable for the supervisor's actions. [Citation.] When the harasser is a nonsupervisory employee, employer liability turns on a showing of negligence (that is, the employer knew or should have known of the harassment and failed to take appropriate corrective action)."].↥
Gov. Code, § 12940, subd. (a).↥
See generally Gov. Code, § 12940.↥
Gov. Code, § 12926, subd. (c); Cal. Code Regs., tit. 2, § 11008, subd. (c) ["'Employee.' Any individual under the direction and control of an employer under any appointment or contract of hire or apprenticeship, express or implied, oral or written."]; but see Shephard v. Loyola Marymount Univ. (2002) 102 Cal.App.4th 837, 842 ["[T]he FEHA does not define an employer, employee, or what constitutes employment."].↥
Cal. Code Regs., tit. 2, § 11008, subd. (a) ["'Applicant.' Any individual who files a written application or, where an employer or other covered entity does not provide an application form, any individual who otherwise indicates a specific desire to an employer or other covered entity to be considered for employment."].↥
Cal. Code Regs., tit. 2, § 11008, subd. (c)(5) ["An individual compensated by a temporary service agency for work to be performed for an employer contracting with the temporary service agency is an employee of that employer for such terms, conditions and privileges of employment under the control of that employer. Such an individual also is an employee of the temporary service agency with regard to such terms, conditions and privileges of employment under the control of the temporary service agency."].↥
See, e.g., Gov. Code, § 12940, subds. (c), (j), & (l); Cal. Code Regs., tit. 2, § 11008 ["Unpaid interns and volunteers may or may not be employees."].↥
Sada v. Robert F. Kennedy Med. Ctr. (1997) 56 Cal.App.4th 138, 153 ["The Act does not prohibit an employer from rejecting a job applicant because she is less qualified than the person selected."].↥
Gov. Code, § 12926, subd. (c) ["Except as provided by Section 12926.05, 'employee' does not include any individual employed by that person's parents, spouse, or child . . . ."]; Mendoza v. Town of Ross (2005) 128 Cal.App.4th 625, 632 [noting that FEHA excludes persons employed by close relatives].↥
Cal. Code Regs., tit. 2, § 11008, subd. (c)(1) ["'Employee' does not include an independent contractor as defined in Labor Code section 3353."]; Estrada v. City of Los Angeles (2013) 218 Cal.App.4th 143, 155 [unpaid volunteer found to not be an employee within the meaning of FEHA].↥
Gov. Code, § 12940, subds. (j)(1), (j)(5).↥
Gov. Code, § 12940, subd. (a).↥
Gov. Code, § 12940, subd. (a).↥
Gov. Code, § 12940.↥
Gov. Code §§ 12926, 12940.↥
Gov. Code, § 12965, subd. (b) ["In civil actions brought under this section, the court, in its discretion, may award to the prevailing party, including the department, reasonable attorney's fees and costs, including expert witness fees."].↥
Gov. Code, § 12960, subd. (b).↥
Martin v. Lockheed Missiles & Space Co. (1994) 29 Cal.App.4th 1718, 1724; Williams v. City of Belvedere (1999) 72 Cal.App.4th 84, 90 ["Before a person may file a civil complaint alleging a violation of this statute, he or she must first file an administrative claim with the DFEH."].↥
Gov. Code, § 12965, subd. (b) ["If a civil action is not brought by the department within 150 days after the filing of a complaint, or if the department earlier determines that no civil action will be brought, the department shall promptly notify, in writing, the person claiming to be aggrieved that the department shall issue, on his or her request, the right-to-sue notice."].↥
Gov. Code, § 12960.↥
Gov. Code, § 12965, subd. (d)(2).↥
Gov. Code, § 12940, subd. (h).↥
Gov. Code, § 12940, subd. (h).↥