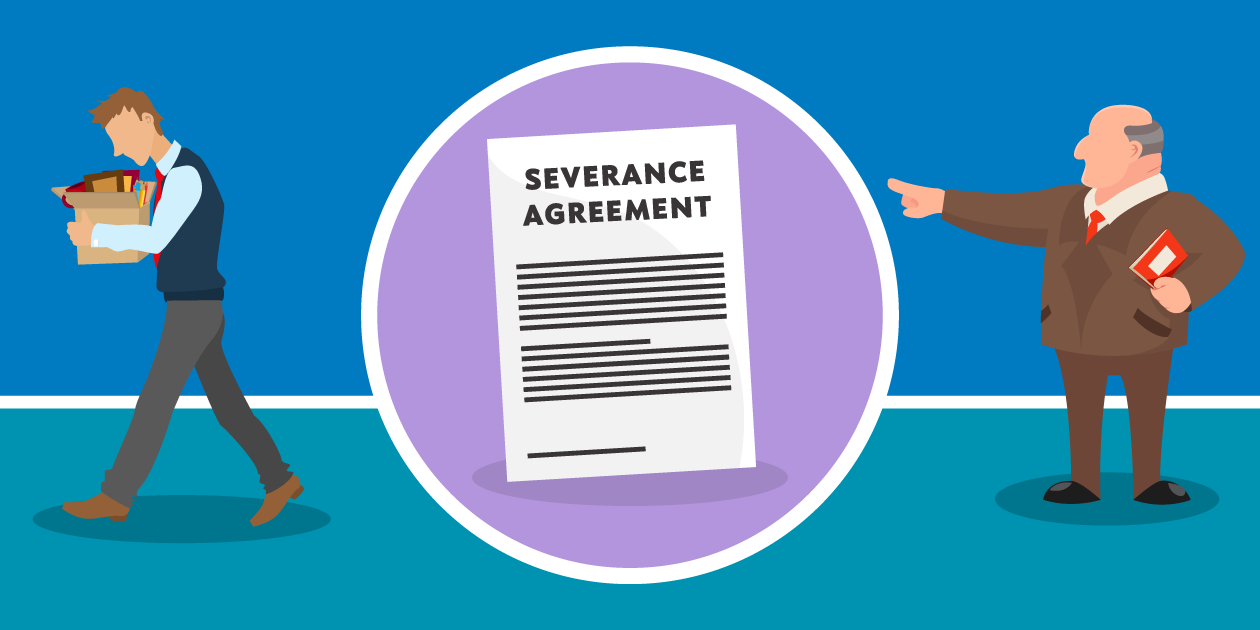 Not everyone leaves a job on his or her own terms. For whatever the reason⁠—⁠be it a firing, company downsizing, or a lay-off⁠—⁠being let go from a job can be a stressful experience. To make things less stressful, employers sometimes offer severance packages to departing employees.
A severance package is a payment by an employer to an employee at the time of the employee's termination. It is usually given in exchange for a written promise from the employee that they will not file a lawsuit against the employer.⁠1 This written promise is usually called a severance agreement.⁠2
Most employees do not have a legal right to receive a severance package when their employment is terminated. But because severance agreements can help reduce an employer's legal liability, many companies offer severance packages regardless of whether they are required to do so.
The rest of this article takes a closer look at the law governing severance agreements in California. If you have been asked to sign a severance agreement, it is often a good idea to have an employment lawyer take a look at it first.
References
See, e.g., Skrbina v. Fleming Cos. (1996) 45 Cal.App.4th 1353, 1366 ["In general, a written release extinguishes any obligation covered by the release's terms, provided it has not been obtained by fraud, deception, misrepresentation, duress, or undue influence."]; Hill v. Kaiser Aetna (1982) 130 Cal.App.3d 188 [discussing severance pay].↥
Skrbina v. Fleming Cos. (1996) 45 Cal.App.4th 1353, 1358 [discussing a situation where an employee signed a written release agreement in exchange for $8,000 in severance benefits].↥
See, e.g., 29 U.S.C. § 216(b); Labor Code, § 2699, subd. (a); Gov. Code, § 12940; Murphy v. Kenneth Cole Productions, Inc. (2007) 40 Cal.4th 1094, 1117.↥
See Civ. Code, § 1541 ["An obligation is extinguished by a release therefrom given to the debtor by the creditor, upon a new consideration, or in writing, with or without new consideration."]; Skrbina v. Fleming Cos. (1996) 45 Cal.App.4th 1353, 1366; Shaw v. City of Sacramento (9th Cir. 2001) 250 F.3d 1289.↥
Civ. Code, § 1668 ["All contracts which have for their object, directly or indirectly, to exempt anyone from responsibility for his own fraud, or willful injury to the person or property of another, or violation of law, whether willful or negligent, are against the policy of the law."].↥
See, e.g., Shaw v. City of Sacramento (9th Cir. 2001) 250 F.3d 1289 [even though the jury found the employer liable for employment discrimination, the employee was barred from recovery because he waived his right to sue for all discrimination claims].↥
Sanchez v. County of San Bernardino (2009) 176 Cal.App.4th 516, 528 ["[I]t is possible to waive even First Amendment free speech rights by contract."].↥
Civ. Code, § 1542.↥
Singh v. Southland Stone, U.S.A., Inc. (2010) 186 Cal.App.4th 338, 365 ["an employer is required to timely pay wages due under Labor Code section 201 or 202 unconditionally and cannot require an employee to sign a waiver as a condition of payment.]; see also Labor Code, § 203.↥
Labor Code, § 206, subd. (a) ["In case of a dispute over wages, the employer shall pay, without condition and within the time set by this article, all wages, or parts thereof, conceded by him to be due, leaving to the employee all remedies he might otherwise be entitled to as to any balance claimed."].↥
Civ. Code, § 1668.↥
Bus. & Prof. Code, § 16600 ["Except as provided in this chapter, every contract by which anyone is restrained from engaging in a lawful profession, trade, or business of any kind is to that extent void."].↥
Robinson & Wilson, Inc. v. Stone (1973) 35 Cal.App.3d 396, 407 [a contract must contain discernible duties and limits].↥
29 U.S.C. § 626(f)(1).↥
Perez v. Uline, Inc. (2007) 157 Cal.App.4th 953, 960.↥
Civ. Code, § 1570; Walter E. Heller Western, Inc. v. Tecrim Corp. (1987) 196 Cal.App.3d 149, 160 ["Actual fraud occurs when a party to the contract intends to deceive another party to the contract or to induce another party to enter into the contract on the basis of a promise made without any intention of performing it or any other deceitful act."].↥
Lazar v. Superior Court (1996) 12 Cal.4th 631, 645 ["[I]t has long been the rule that where a contract is secured by fraudulent representations, the injured party may elect to affirm the contract and sue for the fraud."].↥
Civ. Code, § 1569; Lewis v. Fahn (1952) 113 Cal.App.2d 95, 98⁠–⁠99.↥
Holt v. Thomas (1894) 105 Cal. 273, 276-277 ["It is not legal duress to threaten to or actually take advantage of the usual remedy for the enforcement of a debt or obligation."].↥
Chan v. Lund (2010) 188 Cal.App.4th 1159, 1174 ["A party whose consent to a contract has been obtained by economic duress may rescind the contract under certain circumstances."].↥
Odorizzi v. Bloomfield Sch. Dist. (1966) 246 Cal.App.2d 123, 130 ["Undue influence, in the sense we are concerned with here, is a shorthand legal phrase used to describe persuasion which tends to be coercive in nature, persuasion which overcomes the will without convincing the judgment."].↥
Keithley v. Civil Service Bd. (1970) 11 Cal.App.3d 443 ["In essence, undue influence consists of the use of excessive pressure by a dominant person over a servient person resulting in the apparent will of the servient person being in fact the will of the dominant person."]; Odorizzi v. Bloomfield Sch. Dist. (1966) 246 Cal.App.2d 123, 130 ["The hallmark of such persuasion is high pressure, a pressure which works on mental, moral, or emotional weakness to such an extent that it approaches the boundaries of coercion. In this sense, undue influence has been called overpersuasion."].↥
McDougall v. Roberts (1919) 43 Cal.App. 553, 556 ["Prompt rescission and offer of restitution are essential to a recovery on the ground of undue influence."].↥
A & M Produce Co. v. FMC Corp. (1982) 135 Cal.App.3d 473, 486 ["[U]nconscionability has both a 'procedural' and a 'substantive' element."].↥
Armendariz v. Foundation Health Psychcare Services, Inc. (2000) 24 Cal.4th 83, 113; Gutierrez v. Autowest, Inc. (2003) 114 Cal.App.4th 77, 87 ["Where the parties to a contract have unequal bargaining power and the contract is not the result of real negotiation or meaningful choice, it is oppressive."].↥
Morris v. Redwood Empire Bancorp (2005) 128 Cal.App.4th 1305, 1322.↥
Civ. Code, § 1670.5, subd. (a) ["If the court as a matter of law finds the contract or any clause of the contract to have been unconscionable at the time it was made the court may refuse to enforce the contract, or it may enforce the remainder of the contract without the unconscionable clause, or it may so limit the application of any unconscionable clause as to avoid any unconscionable result."].↥
Town of Newton v. Rumery (1987) 480 U.S. 386, 392.↥
Smith v. Occidental & Oriental S.S. Co. (1893) 99 Cal. 462, 470-471 ["The general rule is that when a person with the capacity of reading and understanding an instrument signs it, he is, in the absence of fraud and imposition, bound by its contents, and is estopped from saying that its provisions are contrary to his intentions or understanding; but it is also a general rule that the assent of a party to a contract is necessary in order that it be binding upon him, and that, if the circumstances of a transaction are such that he is not estopped from setting up his want of assent, he can be relieved from the effect of his signature if it can be made to appear that he did not in reality assent to it."].↥
You might not, as it is fairly common for severance agreements to specifically bar talking about how much the severance agreement is worth.↥