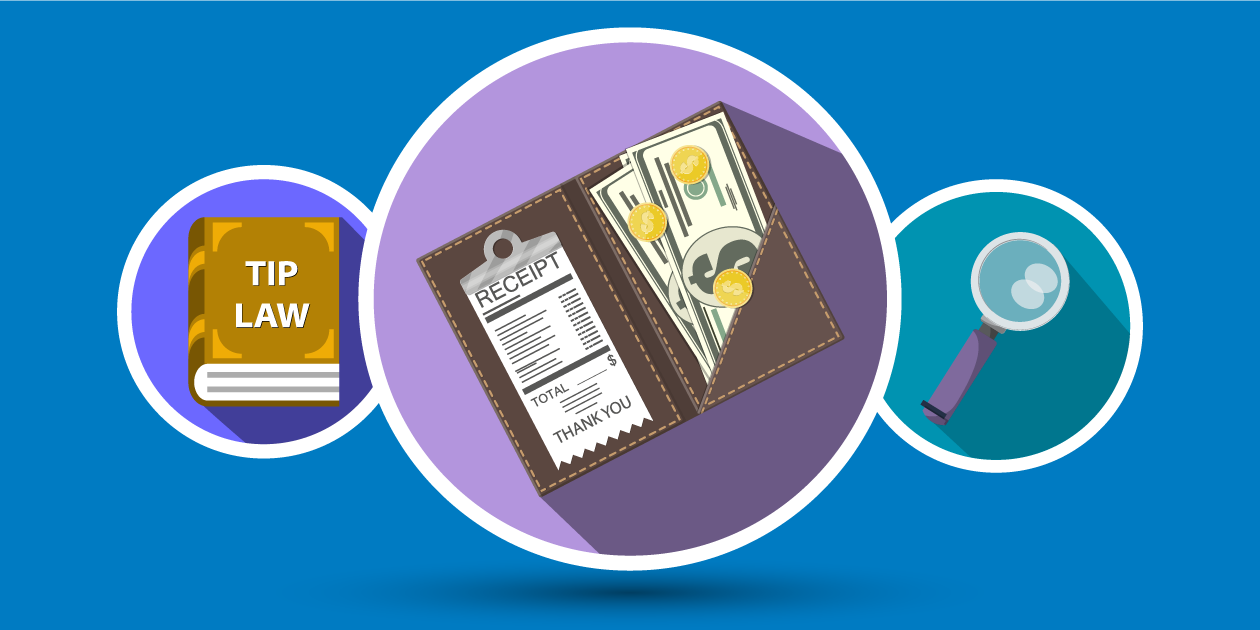 Tip pooling is the practice of gathering some or all of the tips earned by several employees, and then splitting them up in previously-agreed percentages. In California, employer-mandated tip pooling is generally considered legal, as long as certain conditions are met:⁠1
The people participating in the pool must be employees;⁠

2

The tips included in the pool must have been given to employees;⁠

3

and

The employer, the owner, the managers, and the supervisors cannot share in the tip pool.⁠

4
An employer will usually be considered to be in violation of California's labor laws if any of these rules are not followed.⁠5 There are, however, a few exceptions.
First, although this test generally excludes supervisors from sharing in the tip pool, at least one court has held that supervisors can join in the tip pool if they spend large portions of their time doing the same work as regular employees and the tips were likely left, in part, for them.⁠6
Second, although there is no definitive law on this issue, there is a strong argument that the tip pooling arrangement must involve a fair and reasonable distribution of the tips.⁠7 A fair and reasonable distribution of tips will usually be found where an employer has an impartial system for deciding how much is paid to each employee.
Finally, tip pools usually include employees who customarily receive tips and are in the chain of service⁠—⁠such as servers, bussers, and bartenders. But tip pooling arrangements are not necessarily limited to those who provide services directly to the customer.⁠8
The rest of this article will explore the intricacies of California's tip and gratuity laws.
References
Leighton v. Old Heidelberg, Ltd. (1990) 219 Cal.App.3d 1062, 1068 ["We reject plaintiff's contention that employer-mandated tip pooling constitutes a prohibited 'taking' by the employer within the meaning of section 351."].↥
Budrow v. Dave & Buster's of California, Inc. (2009) 171 Cal.App.4th 875, 879 ["There are only two conditions created by section 351: the person must be an employee and the tip must have been 'paid, given or left for' the employee."].↥
Budrow v. Dave & Buster's of California, Inc. (2009) 171 Cal.App.4th 875, 879.↥
See Labor Code, §§ 350, subds. (a), (d) [defining employer and agent to include "every person other than the employer having the authority to hire or discharge any employee or supervise, direct, or control the acts of employees"], 351 [prohibiting employers and agents from receiving any gratuity paid to an employee by a patron].↥
See Labor Code, § 351.↥
See Chau v. Starbucks Corp. (2009) 174 Cal.App.4th 688, 692 [tip pooling permissible where shift supervisors who spend 90% of their time doing the same work as baristas, and the store had a general tip jar for the entire crew].↥
Etheridge v. Reins Internat. California, Inc. (2009) 172 Cal.App.4th 908, 926 ["While [the employee] has not alleged a factual basis for a cause of action for an unfair or inequitable tip pool, it is my view that such a cause of action may be asserted in a proper case. That a tip pool, in order to be valid under Labor Code section 351, must be fair and equitable is, in my view, mandated by the rationale of Leighton. When that court concluded that the tips belong to all employees providing service to a patron, it stated that the tip was 'to be equitably distributed between them.' (Leighton v. Old Heidelberg, Ltd. (1990) 219 Cal.App.3d 1062, 1070.)"].)↥
Etheridge v. Reins Internat. California, Inc. (2009) 172 Cal.App.4th 908, 923 ["These policy reasons extend to mandatory tip pools which include employees who do not provide direct table service, but participate in the chain of service. Dishwashers and other kitchen staff are encouraged to give their best possible service as they know they will participate in the financial rewards if the customers are pleased with their work, even though the customers do not personally see them doing it. And a mandatory tip pool makes certain that these employees receive their fair share when the patrons are pleased with their service, but have no way to tip them directly."].↥
Labor Code, § 350, subd. (e) ["'Gratuity' includes any tip, gratuity, money, or part thereof that has been paid or given to or left for an employee by a patron of a business over and above the actual amount due the business for services rendered or for goods, food, drink, or articles sold or served to the patron."].↥
Searle v. Wyndham Int'l (2002) 102 Cal.App.4th 1327, 1335 [emphasizing the customer's discretion as a defining characteristic of a gratuity]; Internal Revenue Bulletin, June 25, 2012 (Rev. Rul. 2012-18), available here (Opens in new window).↥
Labor Code, § 351.↥
Industrial Welfare Com. v. Superior Court of Kern County (1980) 27 Cal.3d 690, 731 [describing tips as a type of "non-wage benefit"].↥
See 26 U.S.C. § 3121(a)(12), (q).↥
Labor Code, § 510, subd. (a).↥
Searle v. Wyndham Int'l (2002) 102 Cal.App.4th 1327, 1335 ["Because the service charge is mandatory and because the hotel is free to do with the charge it as it pleases, the service charge is simply not a gratuity which is subject to the discretion of the individual patron."].↥
This means that even if an employer distributes a portion of these funds to the employee, the employer must withhold Social Security and Medicare taxes, cannot claim a credit against tax obligations, and must include them as part of the employee's hourly wages.↥
See, e.g., Santa Monica Municipal Code, § 4.62.040 ["An Employer shall distribute all Service Charges in their entirety to the Employee(s) who performed services for the customers from whom the Service Charges are collected. No part of these amounts may be paid to Employees whose primary role is supervisory or managerial. No Employer or agent thereof shall deduct any amount from wages or other compensation required by this Chapter due an Employee on account of a Service Charge, or require an Employee to credit the amount of a Service Charge, in whole or in part, against and as a part of the wages or other compensation required by this Chapter due the Employee."], available here (Opens in new window).↥
California, in 2015, amended their regulations to be consistent with the I.R.S.; there is a new presumption regarding whether a gratuity is taxed in a certain manner: Mandatory payments are which are later designated as tips are included in taxable gross receipts. True gratuities, which are voluntarily paid, are not included in taxable gross receipts as long as the employer maintains proper records. (See California State Board of Equalization, Publication 115: Tips, Gratuities, and Service Charges (May 2015) ["For transactions beginning on and after January 1, 2015, when a retailer's records reflect amounts required to be reported to the IRS as non-tip wages, the amounts are deemed to be mandatory and includable in taxable gross receipts."], available here (Opens in new window).↥
Searle v. Wyndham Int'l (2002) 102 Cal.App.4th 1327, 1334 ["The hotel is free to retain for itself the large premium, as well as the service charge, or to remit all or some of the revenue to its employees."].↥
Labor Code, § 351 ["No employer or agent shall collect, take, or receive any gratuity or a part thereof that is paid, given to, or left for an employee by a patron, or deduct any amount from wages due an employee on account of a gratuity, or require an employee to credit the amount, or any part thereof, of a gratuity against and as a part of the wages due the employee from the employer."].↥
Labor Code, § 351 ["Payment of gratuities made by patrons using credit cards shall be made to the employees not later than the next regular payday following the date the patron authorized the credit card payment."].↥
Labor Code, § 351 ["An employer that permits patrons to pay gratuities by credit card shall pay the employees the full amount of the gratuity that the patron indicated on the credit card slip, without any deductions for any credit card payment processing fees or costs that may be charged to the employer by the credit card company."].↥
Labor Code, § 353 ["Every employer shall keep accurate records of all gratuities received by him, whether received directly from the employee or indirectly by means of deductions from the wages of the employee or otherwise."].↥
Labor Code, § 353 ["Such records shall be open to inspection at all reasonable hours by the department."].↥
See Labor Code § 1182.12, subd. (b).↥
See 29 U.S.C. § 203(m); 29 C.F.R. § 531.50.↥
See, e.g., Kilgore v. Outback Steakhouse (6th Cir. 1998) 160 F.3d 294, 298 ["The tip credit allows employers to include in its calculation of a 'tipped employee's' wage the amount that an employee receives in tips up to fifty percent of the minimum wage . . . ."].↥
Labor Code, § 351; People v. Los Angeles Palm, Inc. (1981) 121 Cal.App.3d 25, 35 ["Improperly crediting tips against a minimum wage skews employee benefits such as vacation or sick time; inaccurately reflects income for federal and state income tax purposes; avoids payment of additional wages for overtime and split shifts. That the employees of appellant received better than average tips, according to appellant, which are partially reported, does not alter the above factors. Such a practice clearly violates California law and constitutes an unfair business practice within the meaning of the statute."].↥
Labor Code, § 356 ["The Legislature expressly declares that the purpose of this article is to prevent fraud upon the public in connection with the practice of tipping and declares that this article is passed for a public reason and cannot be contravened by a private agreement."]; see also Civil Code, §§ 1668 ["All contracts which have for their object, directly or indirectly, to exempt any one from responsibility for his own fraud, or willful injury to the person or property of another, or violation of law, whether willful or negligent, are against the policy of the law."], 3513 ["Any one may waive the advantage of a law intended solely for his benefit. But a law established for a public reason cannot be contravened by a private agreement."].↥
Labor Code, § 354 ["Any employer who violates any provision of this article is guilty of a misdemeanor, punishable by a fine not exceeding one thousand dollars ($1,000) or by imprisonment for not exceeding 60 days, or both."].↥
Lu v. Hawaiian Gardens Casino, Inc. (2010) 50 Cal.4th 592, 601 ["[Labor Code section 351] did not reflect a legislative intent to give employees a new statutory remedy to recover any misappropriated gratuities."].↥
Labor Code, § 355 ["The Department of Industrial Relations shall enforce the provisions of this article. All fines collected under this article shall be paid into the State treasury and credited to the general fund."].↥
Labor Code, §§ 61, 74, 98, subd. (a), 355.↥
See Cal. Civil Jury Instructions, No. 2100, Conversion.↥
Lu v. Hawaiian Gardens Casino, Inc. (2010) 50 Cal.4th 592, 603⁠–⁠604 ["To the extent that an employee may be entitled to certain misappropriated gratuities, we see no apparent reason why other remedies, such as a common law action for conversion, may not be available under appropriate circumstances."].↥
Bus. & Prof. Code, § 17200 ["As used in this chapter, unfair competition shall mean and include any unlawful, unfair or fraudulent business act or practice and unfair, deceptive, untrue or misleading advertising and any act prohibited by Chapter 1 (commencing with Section 17500) of Part 3 of Division 7 of the Business and Professions Code."].↥
Bus. & Prof. Code, § 17204.↥
See, e.g., Application Group v. Hunter Group (1998) 61 Cal.App.4th 881, 907 ["California courts have recognized that an employer's business practices concerning its employees are within the scope of section 17200."]; People v. Los Angeles Palm, Inc. (1981) 121 Cal.App.3d 25, 33 ["That the Labor Code provides similar relief against unlawful labor practices cannot foreclose cumulative remedies under the Business and Professions Code if the alleged misconduct does indeed constitute an unfair business practice."].↥
See Labor Code, §§ 2698⁠–⁠2699.5.↥
Labor Code, § 98.6, subd. (a) ["A person shall not discharge an employee or in any manner discriminate, retaliate, or take any adverse action against any employee or applicant for employment because . . . of the exercise by the employee or applicant for employment on behalf of himself, herself, or others of any rights afforded him or her."].↥
Labor Code, § 98.6, subd. (a).↥
Code Civ. Proc., § 339.↥
Code Civ. Proc., § 337.↥
Code Cov. Proc., § 338.↥
Bus. & Prof. Code, § 17208 ["Any action to enforce any cause of action pursuant to this chapter shall be commenced within four years after the cause of action accrued. No cause of action barred under existing law on the effective date of this section shall be revived by its enactment."].↥
Code Cov. Proc., § 340, subd. (a); Amaral v. Cintas Corp. No. 2 (2008) 163 Cal.App.4th 1157, 1199.↥